Fotoblog Bowen Island Deel 1: Rivendell /Photoblog Part 1: Rivendell
~ for English, please scroll down to the blue text ~
De afgelopen jaren heb ik heel wat tijd liggend doorgebracht, starend naar het plafond en denkend aan wat ik zou willen doen als ik ooit weer gezond genoeg zou zijn. Eén van die dingen die ik dan zou willen doen is reizen, tezamen met mijn camera. Vele uren heb ik me voorgesteld hoe ik ooit zou reizen en met mijn camera de mooiste plaatsen en het licht zou vastleggen en wat gaf dat me een kracht om vol te houden in donkere tijden.
Na het zien van de film 'Into the Wild' werd dat gevoel alleen maar sterker. Wat zou het toch mooi zijn om alleen te reizen en onderweg vele bijzondere mensen te ontmoeten.
Plotseling kwam die droom wel heel dichtbij. Vanwege de behandeling en opleiding die ik volg zou ik naar Vancouver gaan om dr. and Master Zhi Gang Sha te bezoeken en er een paar dagen vakantie aan vast plakken. Mijn eerste vakantie in vele jaren! Een deel van de groep met wie ik zou reizen, had besloten om in een jeugdherberg te verblijven, vanwege de lage kosten. Alleen al die gedachte, dat ik in een jeugdherberg zou overnachten, met meerdere mensen op een zaal, maakte me niet erg blij. Gevoelig als ik ben, zou dat veel te veel invloed hebben op mijn energie, dus ik moest wat anders. In eerste instantie werd ik wat verdrietig bij de gedachte dat ik alleen op zoek moest naar een andere slaapplaats, totdat ik me ineens realiseerde dat dit de perfecte gelegenheid was om mijn droom deels waar te maken. Ik zou twee dagen hebben om in mijn eentje met mijn camera er op uit te trekken en de natuur van Vancouver te verkennen.
Meteen was het verdrietige gevoel veranderd in opwinding!  Hier had ik toch al die tijd over gedroomd, dan moest ik nu deze kans met beide handen aanpakken 🙂
Nu nog de geschikte plaats vinden. Na enig speurwerk op internet was me al duidelijk dat er prachtige natuur in de omgeving van Vancouver was. Mijn hart ging volledig open. Als ik nu een slaapplek kon vinden in die omgeving dan kon ik doen waar ik al zo lang naar verlangde.
Ik besloot mijn vriendin Sara te mailen, die in Vancouver woont en met wie ik al een paar jaar emailcontact heb. Zij kon mij vast wel een plek aanraden om te fotograferen en te verblijven. Zo gezegd, zo gedaan. Twee dagen later kreeg ik een email terug. Ik kon niet bij haar verblijven omdat haar huis geen logeerkamer had, maar haar beste vriendin woont op Bowen Island, en als ik zou willen zou ik bij haar en haar man kunnen overnachten. In een eigen gebouwd huis, halverwege de berg met een prachtig uitzicht over de bomen en bergen en het meer, en alleen te bereiken via een 2 km lang onverhard pad. Maar het was er wel heel rustig, schreef ze, misschien wel iets te rustig voor me, dus ik moest er maar even over nadenken?
Ben je nu helemaal gek dacht ik. Te rustig, zo midden in de natuur? Dat klonk als een droom! Tranen van blijdschap rolden over mijn wangen. Ik kon niet wachten om te gaan. Wat begon als iets waar ik tegenop zag was binnen een paar uren omgedraaid in iets wat bijna te mooi was om waar te zijn, echter, het was waar!
26 september 2013 was het dan zover. Mijn avontuur begon, na zoveel jaren binnen zitten. Een deel van de groep zat in hetzelfde vliegtuig en om 14.00 uur plaatselijke tijd landden we in Vancouver. De rest van de groep ging naar het Hostel, terwijl Sara mij ophaalde van het vliegtuig om me een lift te geven naar Bowen Island. Zo ontzettend fijn om haar eindelijk in persoon te ontmoeten! Het was prachtig zonnig weer, een strakblauwe lucht en lekkere temperatuur. We hadden wat tijd over, dus via de sightseeing route naar de Ferry gereden. Daar zette Sara mij af en kort daarna vertrok de boot richting eiland. Wat een prachtig gezicht. Zon, zee, bergen…. Mijn avontuur kon niet mooier beginnen. Ik kon nauwelijks geloven dat dit mijn leven was.
Last few years I spent a lot of time lying down, staring at the ceiling, thinking about what I would do if I would be healthy again. One of the things that I would like to do is travelling the world with my camera. I have spent many hours, visualizing how I would travel the world with my camera to photograph the most beautiful places and light. It gave me so much strength to hold on to in times of darkness. 
After I had seen the movie "Into the Wild" that longing only got stronger. What would it be great to travel alone and to meet all kind of beautiful people along the way.
Suddenly this dream became reality. Because of my treatment and trainingprogram I would go to Vancouver to see dr. and Master Zhi Gang Sha and also spend some days for holiday. My first holiday in many years. The group I would travel with, had decided to book a hostel, because of the low costs. But only the thought of sleeping in a hostel, with several people in one room, didn't make me feel very happy. So sensitive as I am, that would affect my energy too much, so I had to look for a different place to stay. At first the thought of staying somewhere else, on my own, made me feel very sad, but then I realized that it was the perfect opportunity to live my dream. I would have two days to travel with my camera and to explore nature in Vancouver, BC. Immediately feelings of sadness transformed into excitement! This is what I had been dreaming of, now I should grab this chance I had with both of my hands 🙂
I only had to find a place to stay, so I searched on the internet. After only a short time I already figured out there was a lot of beautiful nature to photograph in Vancouver. My heart totally opened. If I could find a place to stay near that beautiful nature, I could do what I wished for, for so long.
I decided to ask my friend Sara for help, who lives in Vancouver. We had been emailing for almost three years now, and I was sure she was able to give me some advice about where to photograph and in which area to stay. After only two days she wrote me back and said that her apartment was not big enough to offer me a place to stay, but her best friend, Nancy, would be very happy to have me as her guest. She and her husband live on Bowen Island, and built their own property.  Their home is on a very large forested piece of land, half way up a mountain, with a beautiful view on the lake and the mountains that you access by a dirt road. The town (called Snug Cove) is about 2km away, and is very small. But, so said Sara, it was very rural, so maybe I should think about it if it was not too quiet for me.
Are you kidding? Too quiet, too rural? No, absolutely not. It sounded like a dream. Tears of gratitude were rolling down my cheeks. I couldn't wait to go to Bowen Island. What started as something I didn't like too much, within only a couple of hours transformed to something that was almost too good to be true, but it was the truth 🙂
September 26th, 2013 my adventure started, after all those years of being inside. We travelled as a group from the Netherlands to Vancouver, but when we arrived in Vancouver arond 2 PM, the group went to the hostel, and my friend Sara picked me up at the airport to offer me a ride to the ferry, which would bring me to Bowen Island. It was so nice to finally meet her in person!  It was beautiful weather, blue sky, nice temperature. We had some free time, so Sara took the sightseeing route to show me a little bit of Vancouver and then drove to the Ferry. A little while later, I was on the boat. What a perfect view. Sun, Sea, Mountains. My adventure couldn't start in a better way! I could hardly believe it was my own life.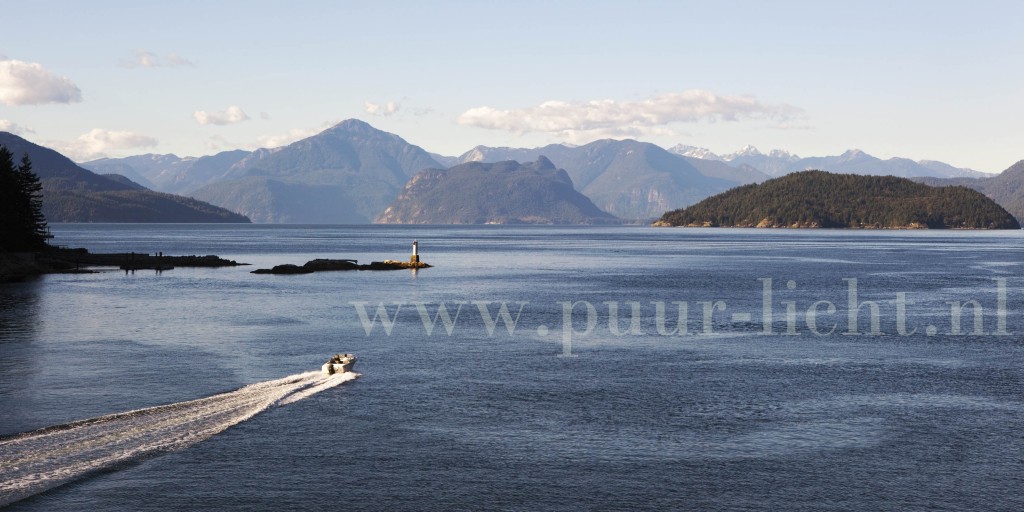 Daar stond ik dan, op de boot met dit fantastische uitzicht. Ineens schoot door me heen dat artsen in Nederland me een tijd terug hadden gezegd dat er weinig hoop was voor mij en ik zou overlijden. Volgens hen zou ik niet meer in leven zijn op deze dag. En zie nu, na een jarenlang gevecht kwam het leven steeds meer terug en had ik een toekomst om naar uit te kijken. En dit was slechts het begin. Ik probeerde alles in me op te nemen en dat gevoel van vrijheid wat ik had voor altijd te herinneren. Mijn eerste zomer weer buiten en vele dromen om na te jagen…
There I stood, on the boat, enjoying this fantastic view. Suddenly I remembered the doctors in the Netherlands who had told me a while ago, that there was no hope for me and that I would die. According to them I would not be alive anymore on this day. And see what happened, after a long fight of many years, life was coming back to me and I had a future to look forward to. This was only the beginning. I tried to take in every impression so I could remember the feeling of freedom I had for ever. My first summer outside again and many dreams to chase…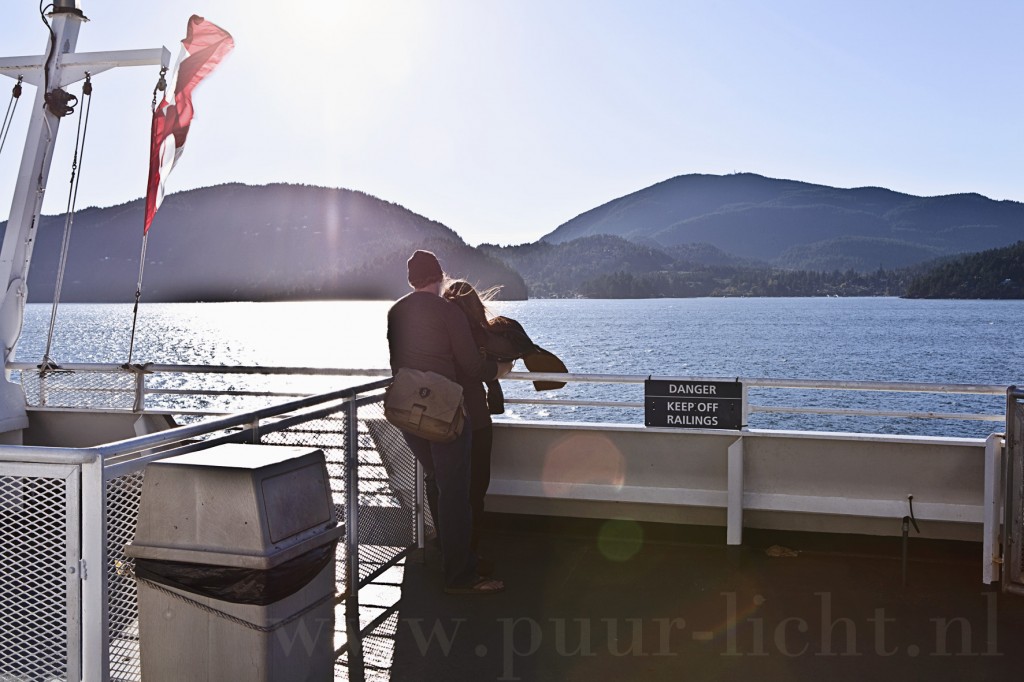 Daar was de haven van Snug Cove, in prachtig stralend zonlicht. Mooi!
There was the port of Snug Cove, in bright sunlight! How beautiful!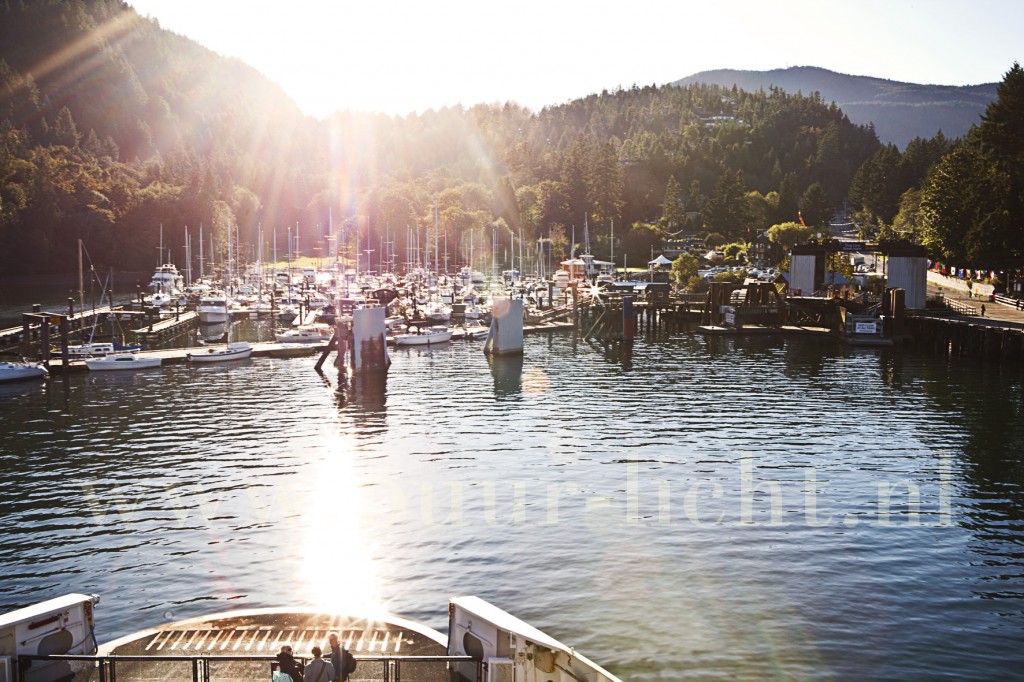 Op de boot onmoette ik Marina, een bijzonder iemand die ik ook kende van internet en die ik herkende aan haar ogen. Ze is een van de studenten in Vancouver. Het was zo leuk om haar te ontmoeten. In de haven stond Nancy op me te wachten om me met de auto naar haar huis te brengen. Nancy kende Marina ook en bood haar een lift aan naar Rivendell, waar ze een week zou verblijven. Voor mij was het een mooie gelegenheid om alvast wat van het eiland te zien. Ik kon niet geloven dat ik zo gezegend was om hier te verblijven. Wat was het er mooi! En ik had al drie prachtige vrouwen ontmoet in slechts korte tijd.
On the Ferry I met Marina, a lovely lady who I also knew from Internet and who I recognized by her eyes. She is one of the students in Vancouver. It was so nice to meet her. In Snug Cove was Nancy waiting for me, to pick me up and to drive me to her home. Nancy also knew Marina, and offered her a ride to Rivendell, where she would stay for a week. So for me it was the perfect opportunity to see a part of the Island. I could not believe I was so blessed to stay there. It was so beautiful! And I already met three beautiful women in just a short time.
Eenmaal thuis maakte Nancy een maaltijd van produkten uit de tuin en na een gezamenlijk diner met haar man Harry, was het voor mij echt tijd om onder de wol te kruipen na zo een lange dag. De volgende dag wilde ik vroeg op om te fotograferen, dus de wekker op 6.00 uur gezet. Ik lag in bed te denken aan alle veranderingen in mijn leven en belevenissen van die dag en viel in slaap met een glimlach op mijn gezicht. Er was zoveel licht in mijn leven gekomen in zo korte tijd.
Toen ik wakker werd klonk echter het geluid van vallende druppels op de veranda. Oh Oh, dat beloofde niet veel goeds. Eerst maar douchen en ontbijten, maar een uurtje later regende het nog harder. Veel te hard om met mijn camera op pad te gaan. Wat een teleurstelling. Het uitzicht vanuit huis was echter prachtig met die laaghangende wolken en onder het genot van een kop thee had ik de tijd om Nancy wat beter te leren kennen en zo een nieuwe vriendschap op te bouwen. Zo bleken de gewijzigde plannen toch nog iets moois op te leveren.
When we were at her house, Nancy made a lovely meal from vegetables from her garden and after diner together with her husband Harry it was time for me to go to sleep. It had been a long day for me and I wanted to get up early in the morning to go out to photograph, so I set the alarm at 6 AM. I lied down in bed, thinking about all the changes in my life and the beautiful meetings of that day and fell asleep with a happy smile on my face. There had been so much light coming into my life in such a short period of time.
However, when I woke up I heard the sound of falling raindrops on the porch. Oh Oh, that was not very promising. I decided to get up anyway and took a shower, hoping it would be better soon, but one hour later it only rained more. It was raining too hard to go out to photograph. What a disappointment!  The view from the house however was beautiful with all the clouds and while we were drinking a cup of tea I had the opportunity to get to know Nancy better. Change of plans turned out to be the start of a new friendship in my life.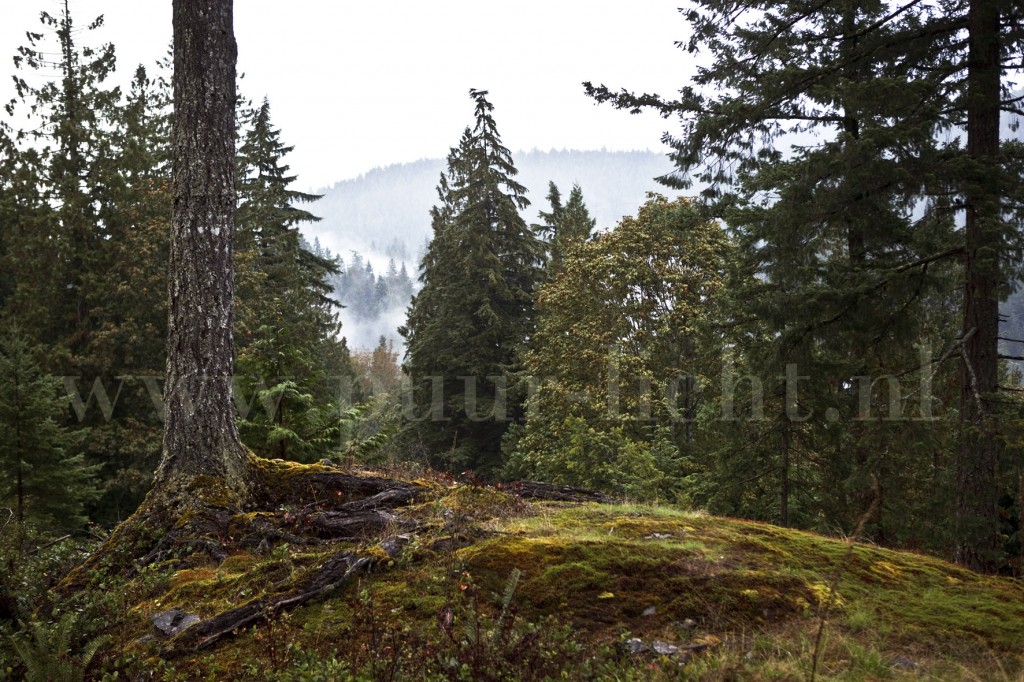 Tegen de middag werd het wat droger, dus kon ik eindelijk op pad, met een regenjas en paraplu om mijn camera te  beschermen. Nancy bracht me naar Rivendell, bovenop de berg zodat ik vandaar de paden kon lopen naar de top en dan naar  beneden naar het dorpje. Ik moest lachen bij het idee dat ik daar in de regen liep, zo genietend van alles wat ik zag dat de regen me niet eens heel veel kon schelen. De regen had zelfs een groot voordeel, alle kleuren werden nog intenser en het licht had iets magisch.
Around noon the weather finally improved a little bit, so I could go outside, with a raincoat and an umbrella to protect my camera. Nancy brought me to Rivendell, on top of the mountain, so I could walk the trails to the top and then down to the village. I smiled with the idea that I was walking in the rain, but so much enjoying the view that the rain didn't even bother me that much. In fact, because of the rain, all the colors were more intense and the light was kind of magical.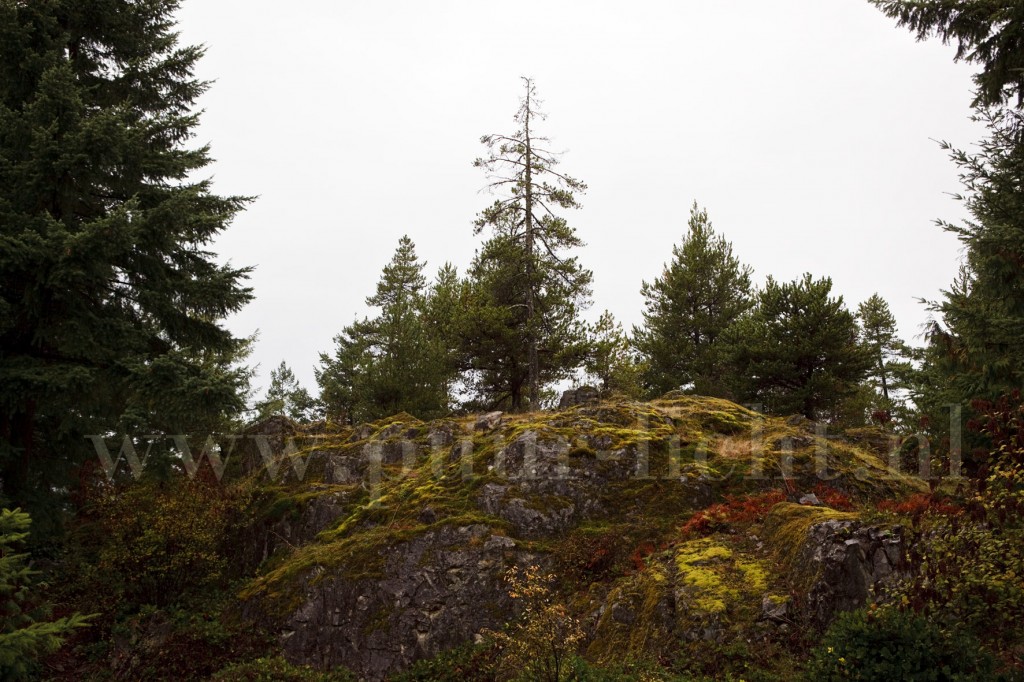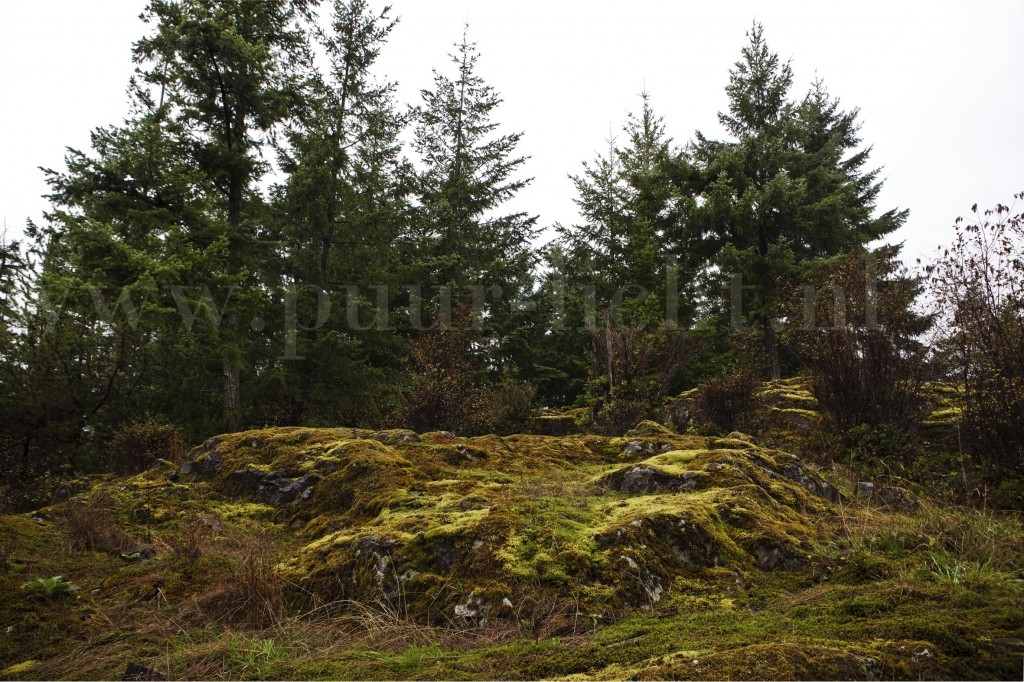 Rivendell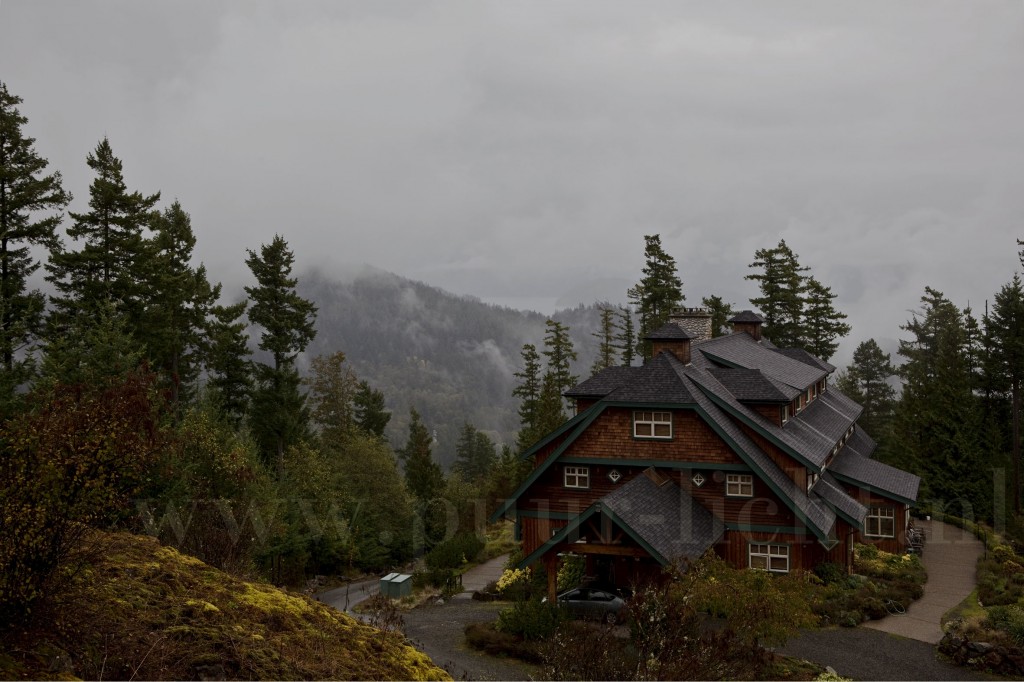 Overal laaghangende wolken, wat het voor mij heel bijzonder maakte.
Clouds were everywhere, which made it a special place for me.
En dan ineens, te midden van al dat grijs, was er oranje en geel, een teken van de naderende herfst. Ik hou van al die kleuren!
Then in the midst of all those grey colors, there was orange and yellow, a beautiful sign of the coming Autumn. I love those colors!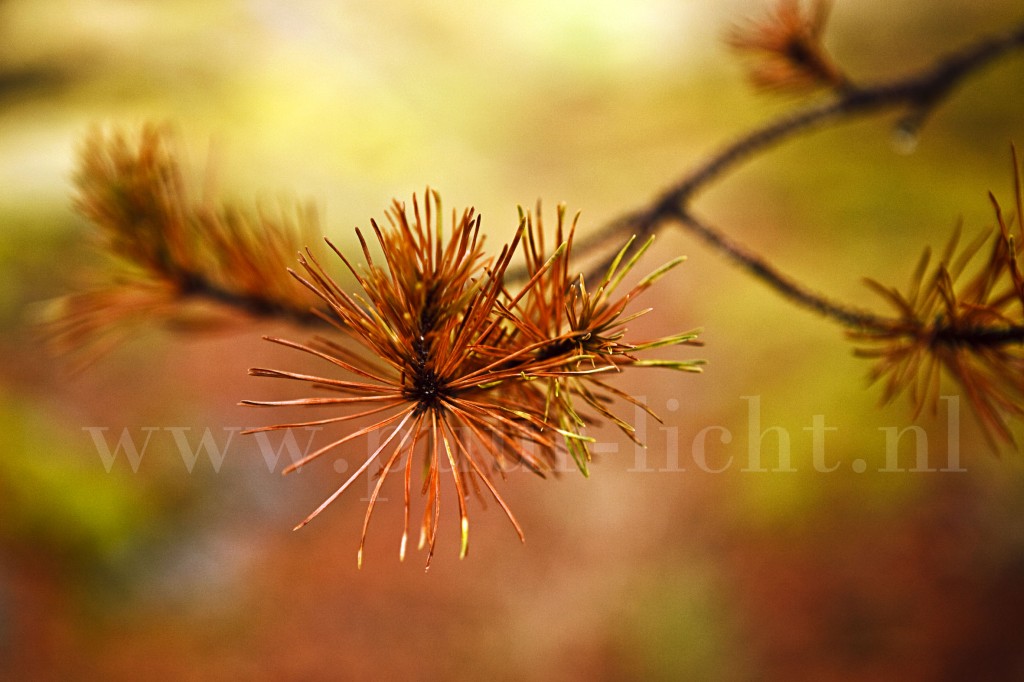 En overal waren regendruppels 🙂
And there were raindrops everywhere 🙂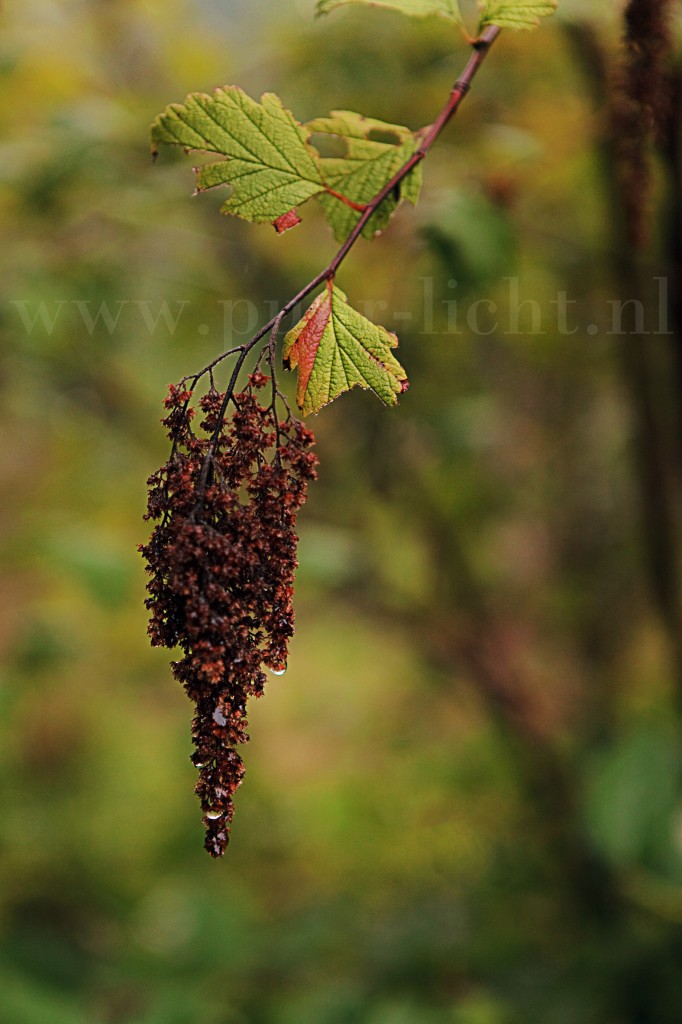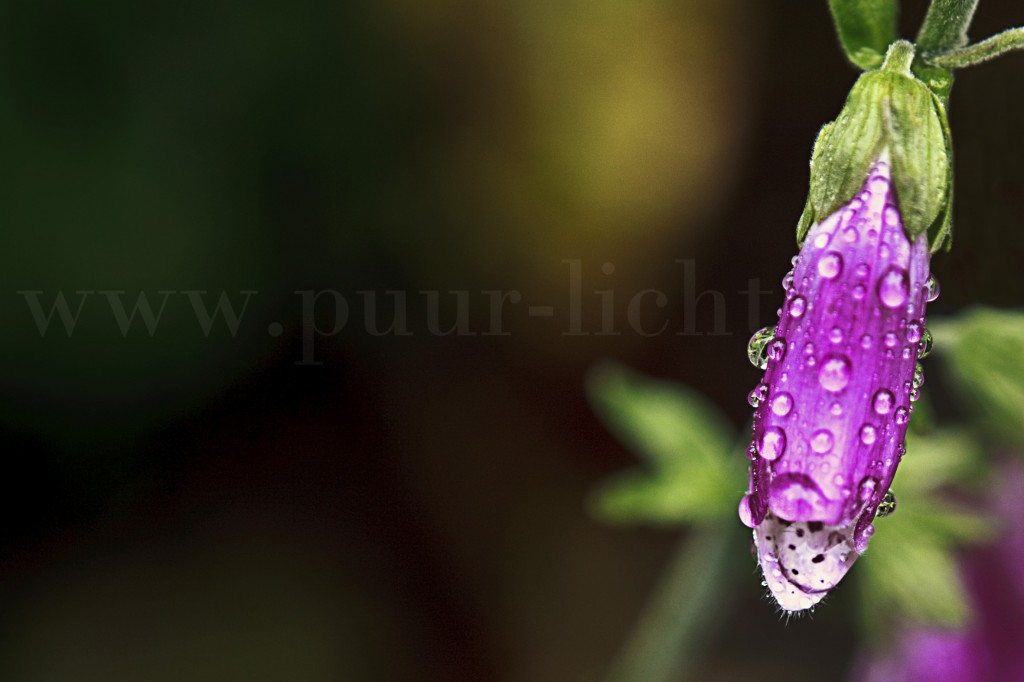 Langzaam liep ik de berg naar beneden, onderweg genietend van het uitzicht en de zware donkere wolken.
 Slowly I walked down the mountain, enjoying these amazing views and the dark heavy clouds.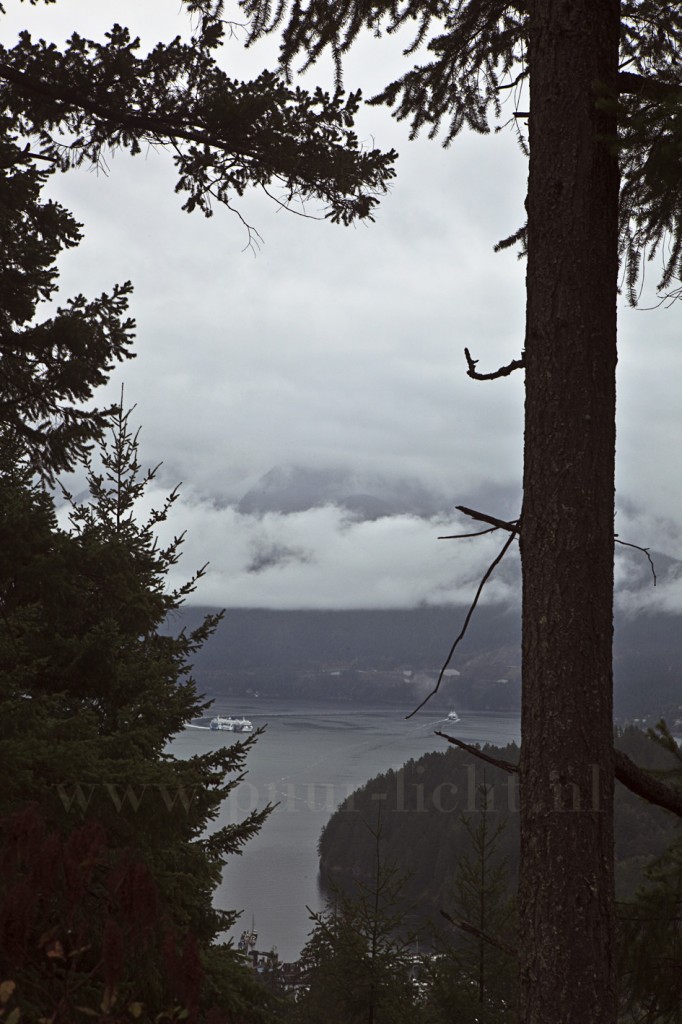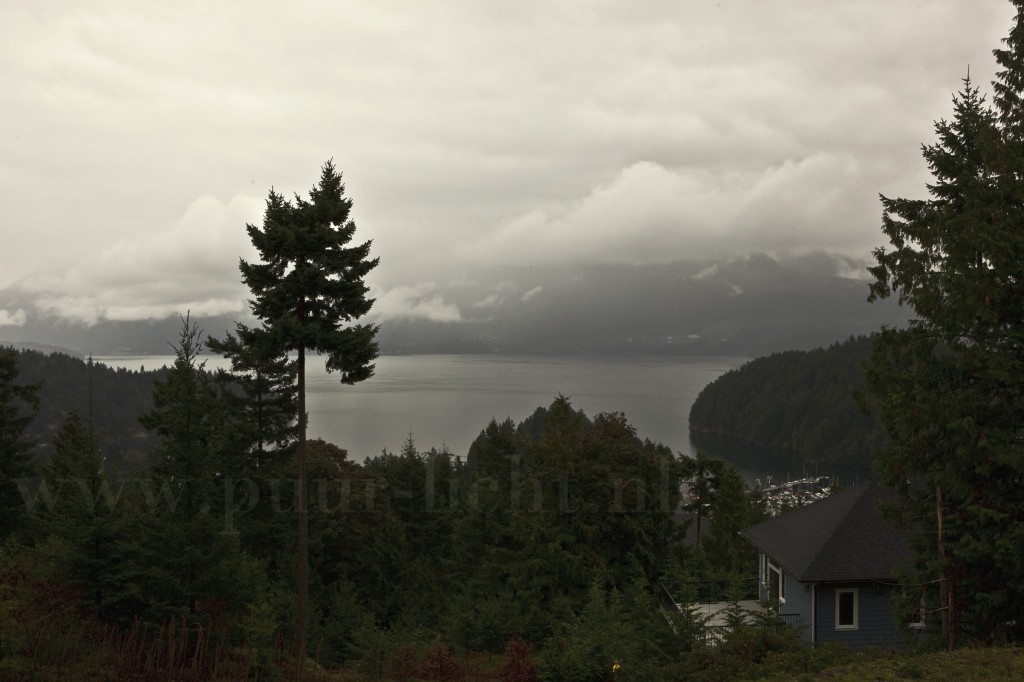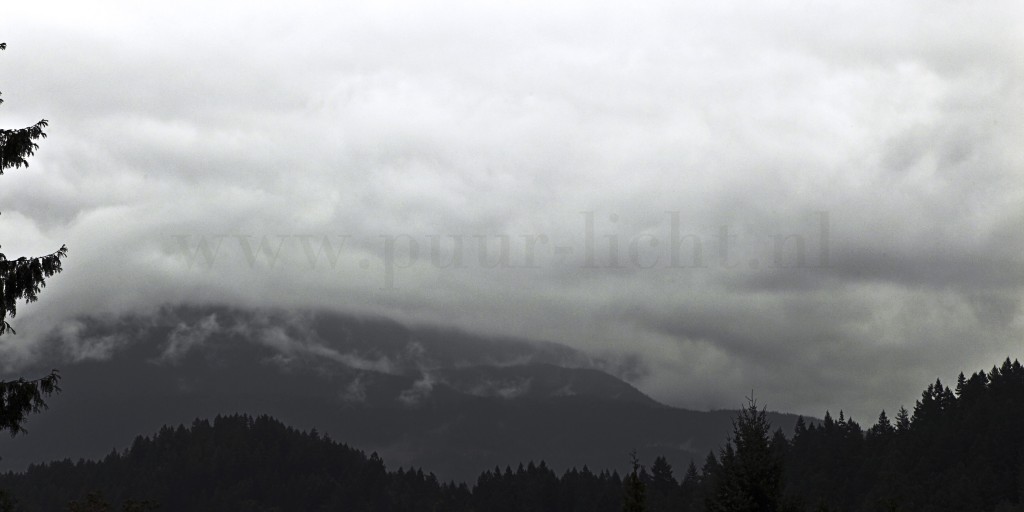 Vanwege het slechte weer waren er weinig dieren te zien. Alleen de grote zwarte kraaien vlogen steeds boven mij in het rond. En ik zag twee herten, een moeder en haar jong, maar die kon ik helaas niet goed fotograferen vanwege het donkere weer. Te veel bewegingsonscherpte.
Because of the bad weather, there were not so many animals, but the big black birds were still flying above my head. I only saw two deers, a mother and her child, but I was not able to photograph them because of the bad weather. Too much motion blur.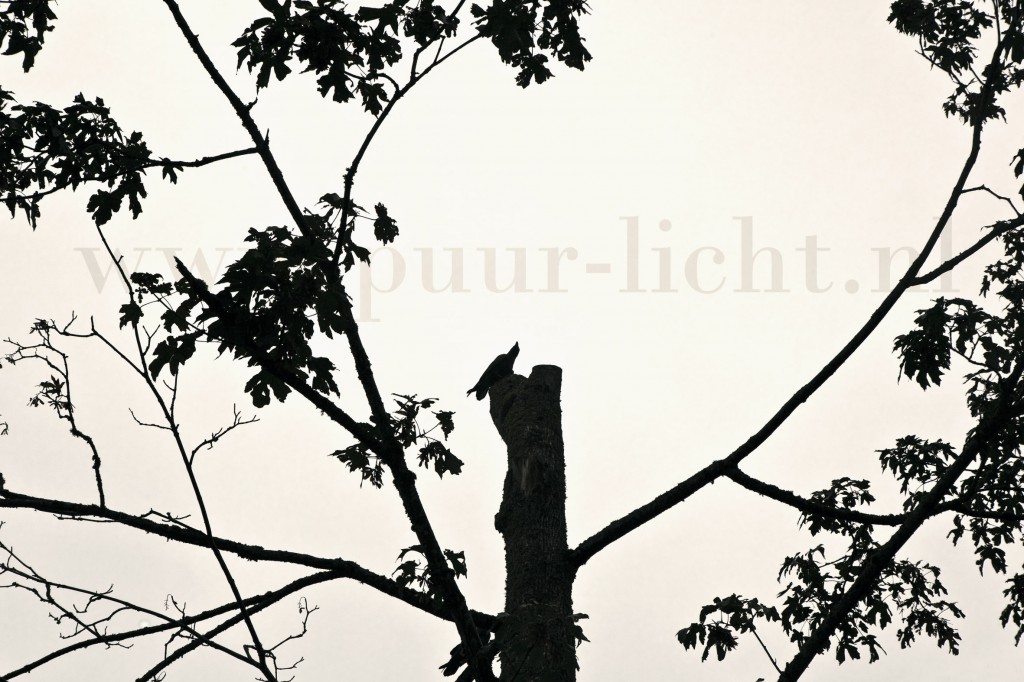 Terug in het dorpje was het tijd om het pad naar de waterval op te zoeken. Ik was benieuwd hoe die eruit zou zien.
Wordt vervolgd… in mijn volgende blog.
Back in the village, it was time to look for the trail towards the waterfall. I was curious what the waterfall would look like.
To be continued … in my next blog.