Fotoblog: Workshop in IJmuiden, Nederland / Photoblog: Workshop in IJmuiden, the Netherlands
~ For English, please see the blue text ~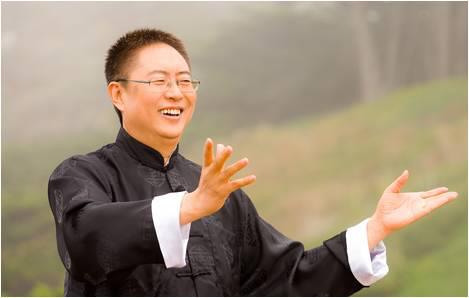 Van 9 tot en met 13 oktober 2013 vonden er verschillende evenementen plaats in IJmuiden, Nederland met Dr. en Master Zhi Gang Sha. Tijdens deze dagen werd mij gevraagd om samen met Marieke Kelder een reportage te maken van de verschillende evenementen, zodat deze beelden met iedereen die niet bij de workshop aanwezig kon zijn, gedeeld konden worden via de Facebookpagina van Dr. en Master Zhi Gang Sha.
October 9-13, 2013, there were several events in IJmuiden, the Netherlands, with Dr. and Master Zhi Gang Sha. During these days I was asked to photograph the events, together with Marieke Kelder, so these images could be shared on the Facebook page of Dr. and Master Zhi Gang Sha, with everyone who could not attend the workshop. 
Gevraagd werd om de essentie van de workshop en de verschillende emoties vast te leggen, waarbij niet gefotografeerd mocht worden met flitslicht. Kortom, een opdracht zoals ik die graag heb. Het licht in de zaal was niet heel erg goed, maar juist dat maakte het een mooie uitdaging om hiermee op een creatieve wijze aan de slag te gaan.
The assignment was to photograph the essence of the workshop and to capture the different emotions, without the use of flashlight. Exactly the kind of assignment I like to have. The light in the room was difficult to work with, but that made it a perfect opportunity to be creative.
De evenementen werden door vele mensen uit verschillende landen bezocht. Zij kregen de mogelijkheid om diepgaand onderricht en spirituele wijsheden te ontvangen.
Many people from different countries attended the events. They had the opportunity to receive profound teachings and spiritual wisdom.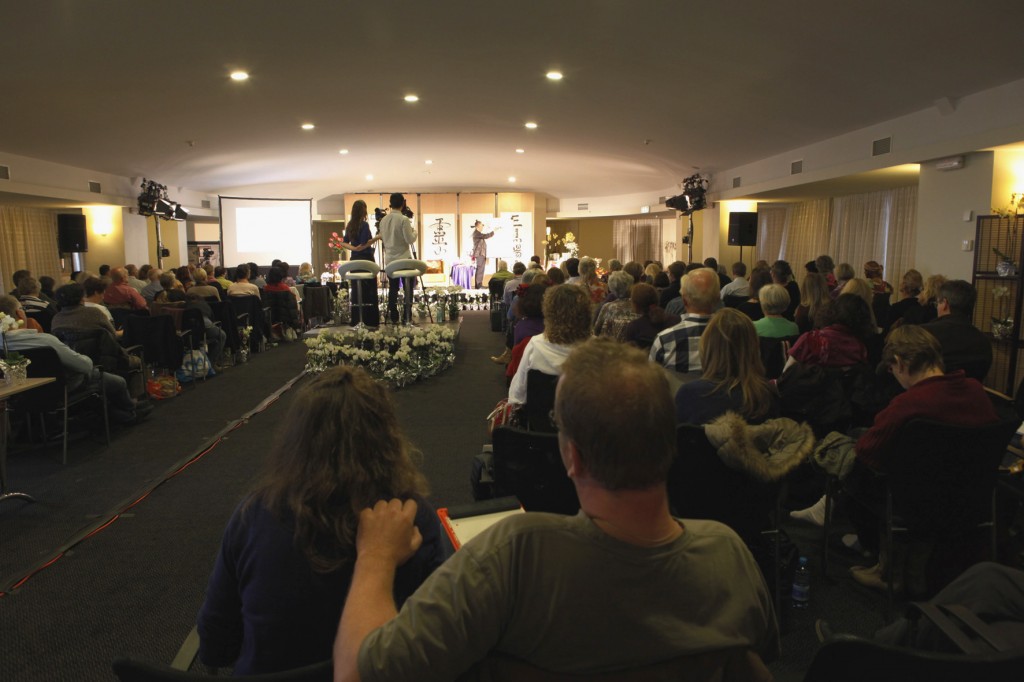 Naast deze toch wat serieuze kant van de workshops, was er voldoende tijd voor zang, dans en persoonlijke gesprekken. Spiritualiteit is niet iets wat alleen maar serieus hoeft te zijn. Het is ook iets wat vreugdevol en ontspannend is!
Beside the more serious part of the workshop, there was plenty of time to sing, to dance and to have personal interactions with other participants. Spirituality doesn't have to be so serious all the time. It can be fun and relaxing too!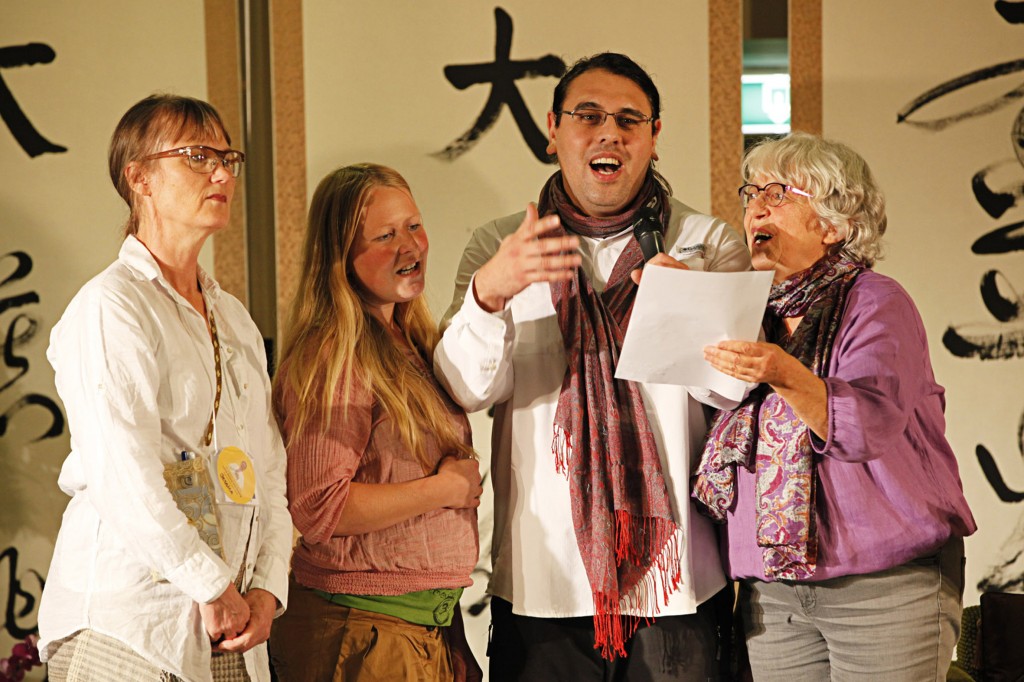 Deelnemers zingen Liefde, Vrede en Harmonie in verschillende talen. Klik hier voor meer informatie en een gratis download van deze zielenzang. 
Participants chanting "Love Peace Harmony" in different languages. Click here for information and a free download of this song.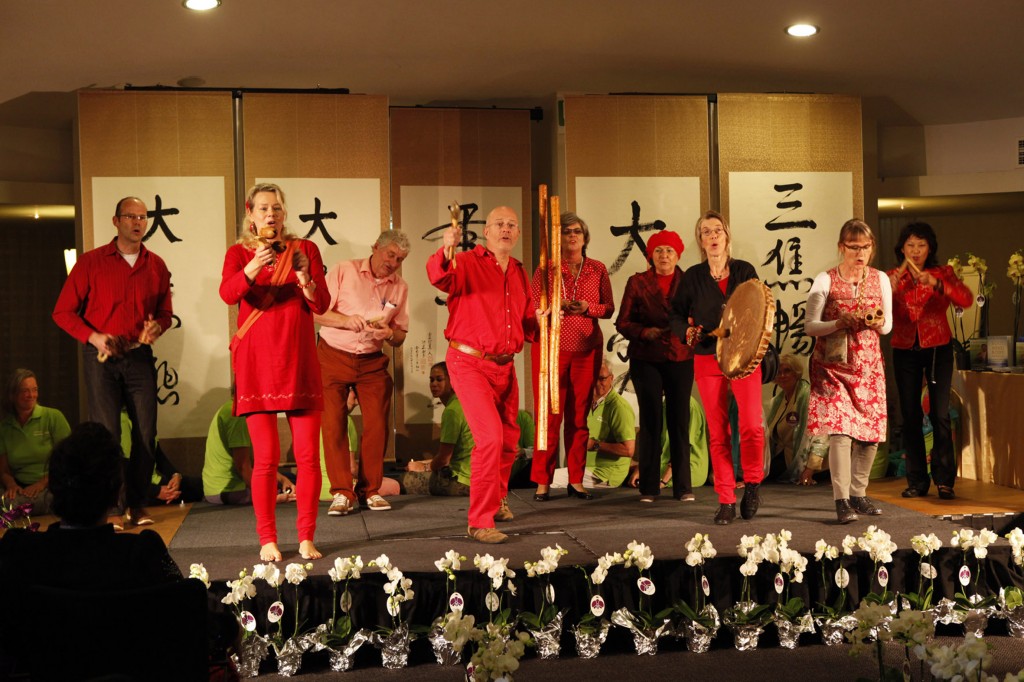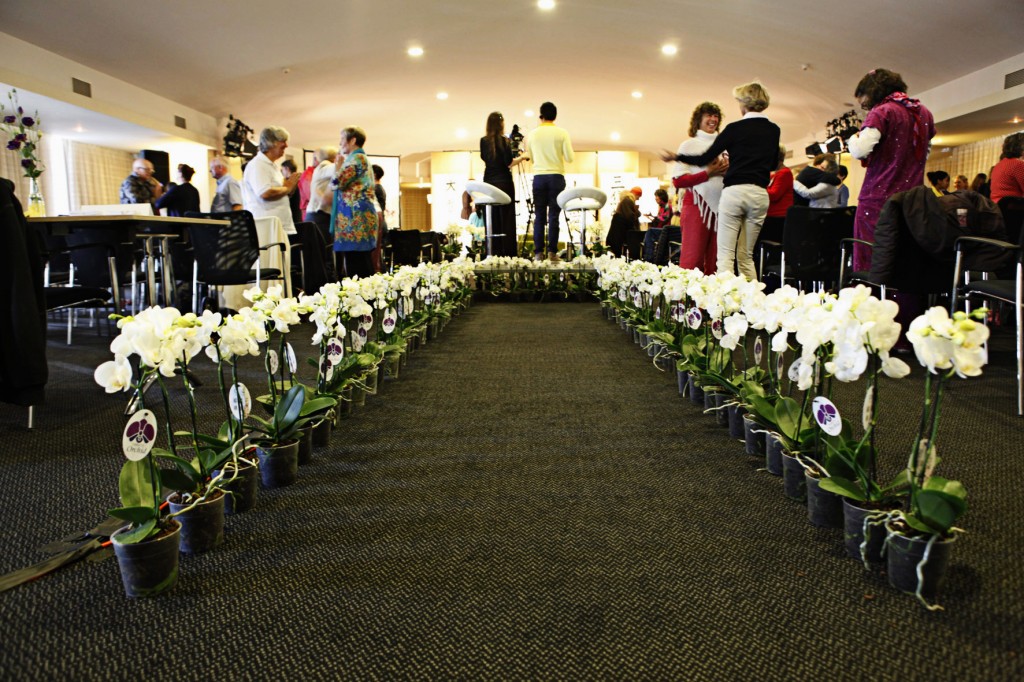 Tevens werden er krachtige technieken voor zelfhealing onderwezen en kregen de deelnemers ook vele healings aangeboden, waarbij ze allen een aspect van hun leven konden kiezen waar ze graag verandering in zouden zien. Dit kan zijn een fysieke aandoening, emotionele disbalans, relaties, financiën en nog veel meer.
Beside that, very powerful techniques were taught to selfheal, and all the participants received powerful healing blessings for aspects of their lives they would like to change. This could be a physical condition, emotional imbalance, relationships, finances and more.
Op zaterdag werd een van de deelnemers plotseling ernstig ziek. Op dat moment konden we allemaal getuige zijn van de bijzondere gave die Dr. en Master Sha heeft en van de enorme kracht die Soul Healing heeft. Iedereen kon zien hoe Dennis langzaamaan steeds verder wegzakte, vervolgens ontving hij krachtige Healings van Dr. en Master Sha en enige minuten later, kwam hij helemaal terug en was hij al weer in staat om te praten en te staan. De resultaten waren onmiddellijk zichtbaar. De volgende dag zag hij eruit alsof er nooit iets was gebeurd en stond hij weer middenin het leven.
On Saturday one of the participants suddenly became seriously ill. At that time we all had the opportunity to witness the extraordinary gift Dr. and Master Sha has been given and the amazing power of Soul Healing. Everyone could see how Dennis slowly faded away, then received powerful healings of Dr. and Master Sha and only a few minutes later he came back and was able to talk and stand again. The transformation was instantly. The next day Dennis looked like nothing had happened to him and he was fully alive again.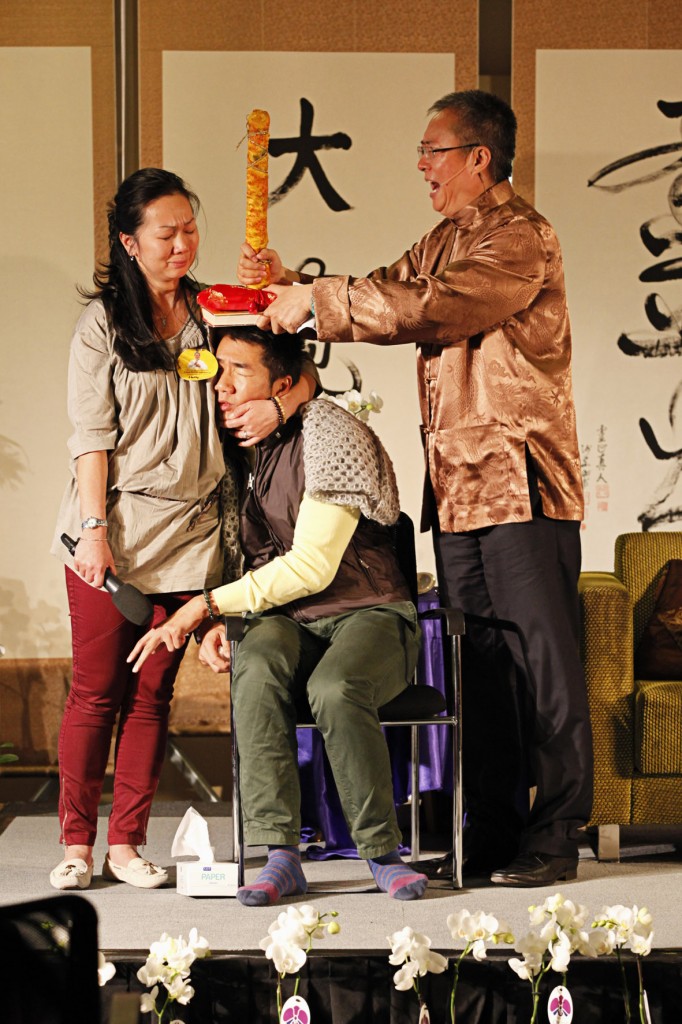 Dennis en zijn vrouw Hetty, aan het begin van de healing, gegeven door dr. and Master Sha.
Dennis and his wife Hetty, at the start of the healing blessings, offered by dr. and Master Sha.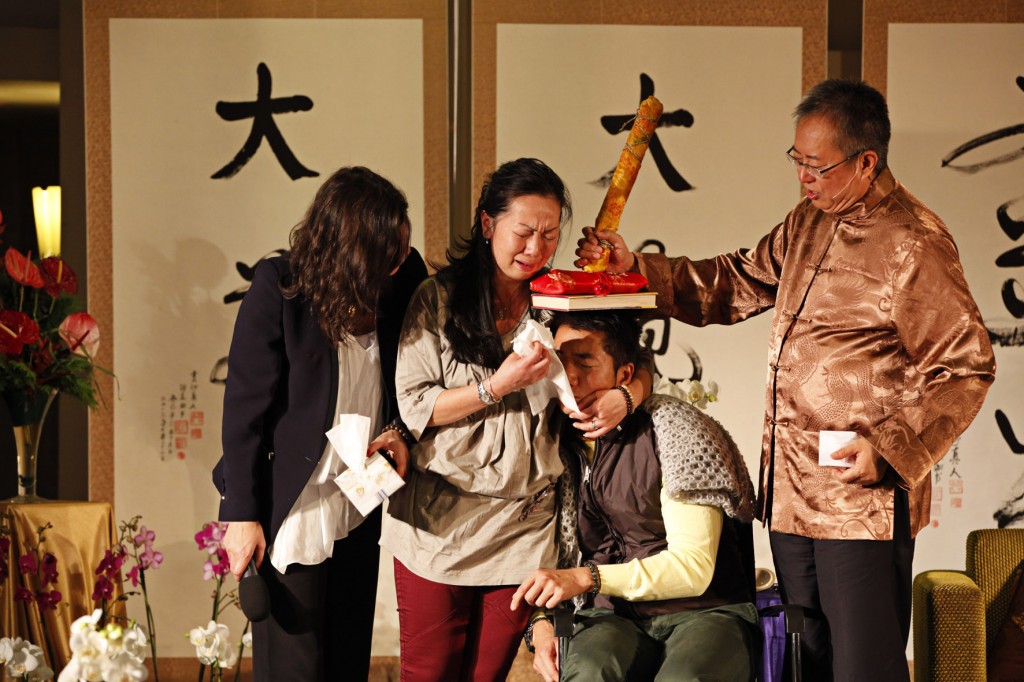 Dennis en zijn vrouw Hetty, tijdens de healing, gegeven door dr. en Master Sha, terwijl Master Maya Mackie hen ter zijde staat.
Dennis and his wife Hetty, during the Healing, offered by dr. and Master Sha, and supported by Master Maya Mackie.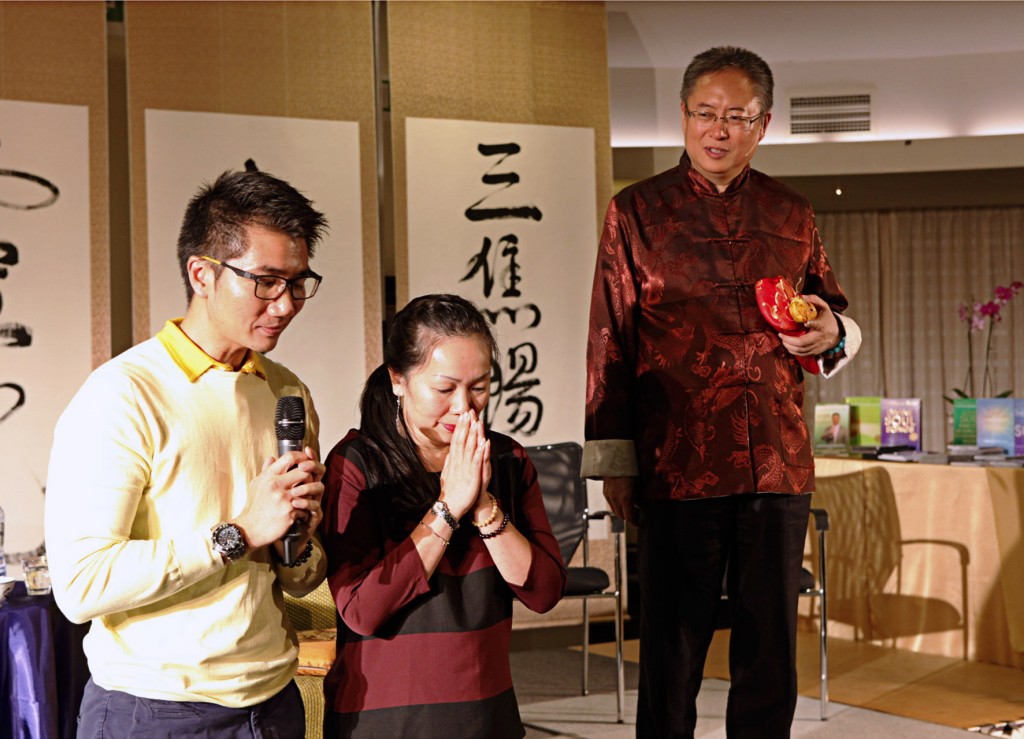 Dennis en zijn vrouw Hetty, de volgende dag.
Dennis and his wife Hetty, the next day.
Dit is slechts één van de vele voorbeelden die ik met mijn eigen ogen heb kunnen aanschouwen. Het is met recht een Soul Healing Miracle (een soul healing wonder) te noemen. Soul Healing Miracles is ook de titel van het nieuwe boek van Dr. en Master Zhi Gang Sha is, dat 12 november 2013 zal worden uitgebracht en vanaf die dag o.a. beschikbaar is via bol.com
This is only one of the many examples I had the honor to witness with my own eyes. It is truly a Soul Healing Miracle. Soul Healing Miracles also is the title of the new book of Dr. and Master Zhi Gang Sha, which will be released November 12th, 2013 via for example amazon.com :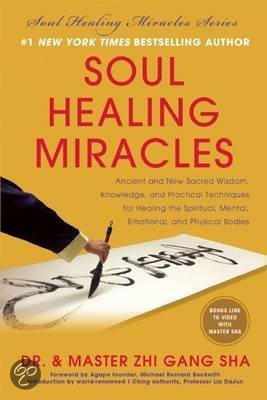 Het is een grote eer voor mij, dat mijn eigen persoonlijke verhaal in dit boek is opgenomen, als voorbeeld van één van de personen die via Soul Healing een 'Miracle' heeft mogen beleven.
Ik ben dr. en Master Sha voor altijd dankbaar dat hij mijn leven heeft veranderd. Het is vanwege de Soul Healings die ik via dr. en Master Sha mocht ontvangen dat mijn leven is gered. Ik voel me zeer vereerd dat ik nu door hem en zijn wereldwijde vertegenwoordigers wordt opgeleid om zelf een steeds krachtiger soul healer te worden en deze krachtige technieken te kunnen onderwijzen en toe te passen om anderen te helpen. Mijn leven heeft betekenis gekregen door mijn leven in te zetten voor anderen.
It is a great honor for me, that my personal healingstory is within this book, as one of the examples of people who truly received a miracle through Soul Healing. I am forever grateful to Dr. and Master Zhi Gang Sha for transforming my life. For it is through the Soul Healing blessings I received through Dr. and Master Sha that my life has been saved. I am honored to be trained by him and his worldwide representatives to become a more powerful soulhealer, to teach these powerful techniques and to apply them to help others. My life has become meaningful by serving others.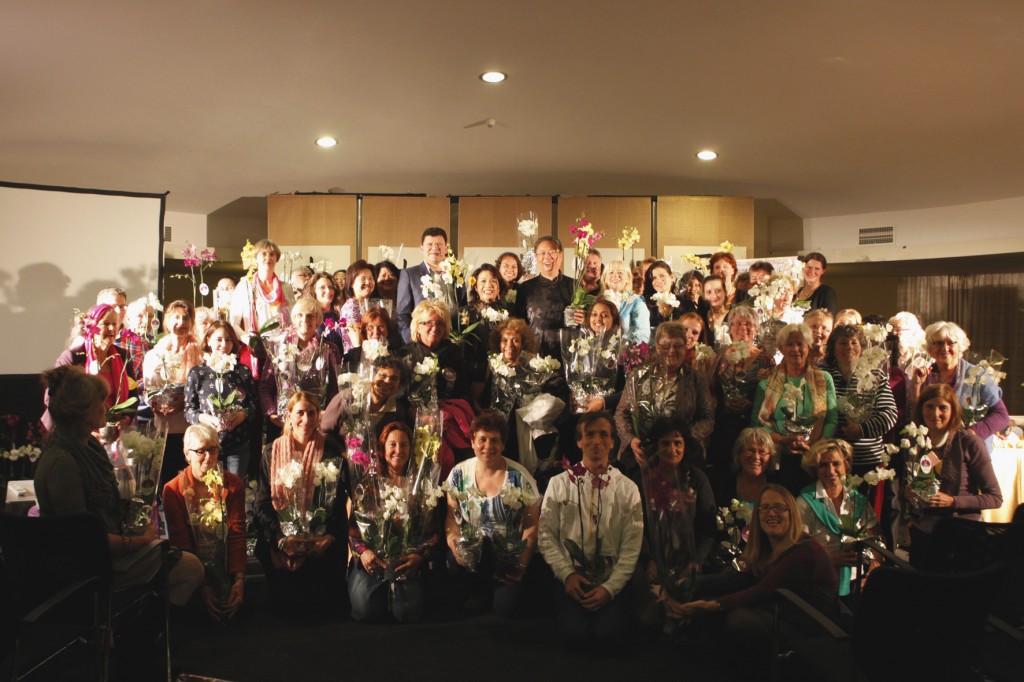 Toen de evenementen waren afgerond, waren er vele blije gezichten van mensen, die zich ervan bewust waren dat ook hun levens op diepgaande wijze waren veranderd.
At the end of the events, there were many happy faces of people, realizing that their lives has been changed in a profound way as well.
Dank u Master Sha, voor de vele mooie momenten en de krachtige healings in IJmuiden en voor de eer deze fotografisch vast te leggen.
Thank you Master Sha, for the many beautiful moments and the powerful healings in IJmuiden, and for the honor to photograph these events.