Zon, Vrijheid en een Bloemetje / Sunshine, Freedom and a Little Flower
~ For English, please scroll down to the blue text ~
"Gewoon leven is niet genoeg, zei de Vlinder. Men moet zonneschijn, vrijheid en een kleine bloem hebben – Hans Christian Andersen.
Zondag 2 maart 2014 voelde ik me een beetje als de Vlinder van Hans Christian Andersen. Na maanden van binnenzitten, zonder computer want die was langdurig in reparatie, en dus geen mogelijkheden om te fotograferen (de flashcards waren immers vol), had ik er een beetje genoeg van. Ik had ook behoefte aan zon, vrijheid en een bloemetje.
Mijn computer was die week eindelijk weer terug gebracht, de flascards had ik dus weer leeg gemaakt, de zon scheen, dus ik moest gewoon met mijn camera op pad en de natuur in.
Dus mijn spullen gepakt, en op wilskracht naar de Amsterdamse Waterleiding Duinen gegaan, omdat mijn linkerbeen niet helemaal wilde doen wat ik wilde. Ik hoopte op baltsende watervogels, ontluikende bloesems, de start van de lente.  Echter, ondanks dat de zon uitbundig scheen, was het heel fris door een koude harde wind en was het nog maar kaal en stil in de Duinen helaas.
Echter was het licht prachtig, dus dan maar wandelen en onderweg zien wat ik tegen zou komen.
"Just living is not enough," said the butterfly, "one must have sunshine, freedom and a little flower." ~Hans Christian Andersen
On Sunday March 2, 2014, I felt like the Butterfly in the story of Hans Christian Andersen. After months of sitting inside, without my computer for it was being repaired, and therefore  no possibility to photograph because my Flashcards were all full, I had enough of it. I really needed some sunshine, freedom and beautiful flowers as well. 
I got my computer back last week, so all the photos had been uploaded, my flascards were empty again. The Sun was shining that day and I just had to go out in nature with my camera. So I grabbed all my stuff and although my left leg didn't want to move in the way I wanted it to move, I walked on will power and went to the National Park: Amsterdamse Waterleiding Duinen. I was hoping to see courtship display of the birds, budding flowers, the start of Spring. However, although the Sun was shining brightly, it was really chilly because of the cold wind and it was quiet and the landscape still bare. 
But the Light was beautiful, so I kept on walking, wondering what I would find out there.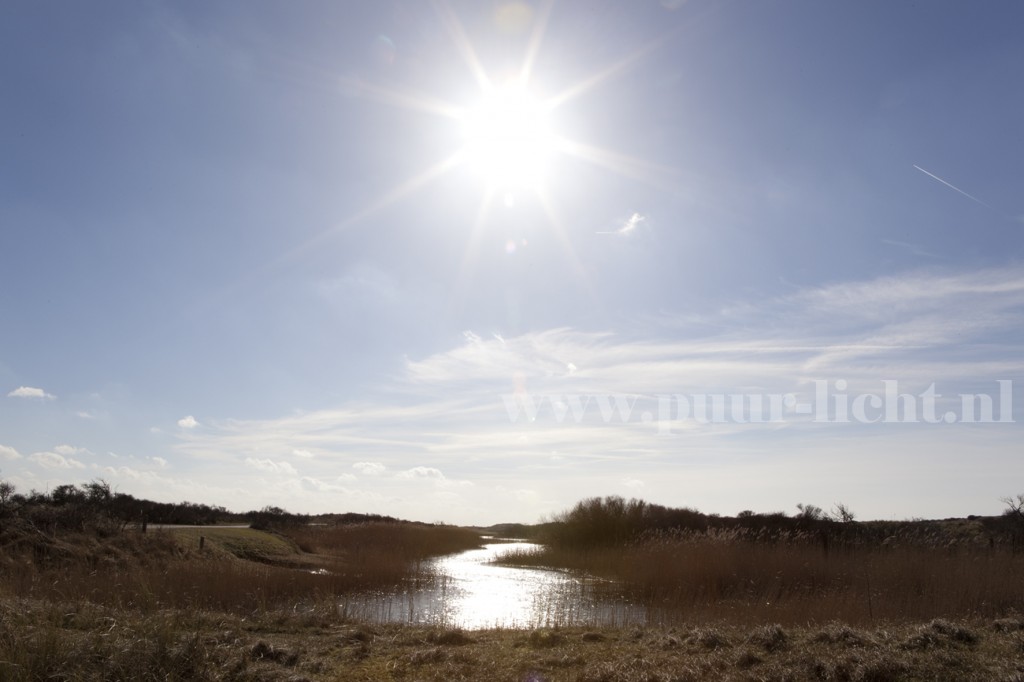 Er waren weliswaar een paar watervogels, maar die zwommen gewoon hun rondje en waren niet in de stemming voor enig paringsritueel.
There were a few birds, but they just swam and were not in the mood for some kind of courtship display.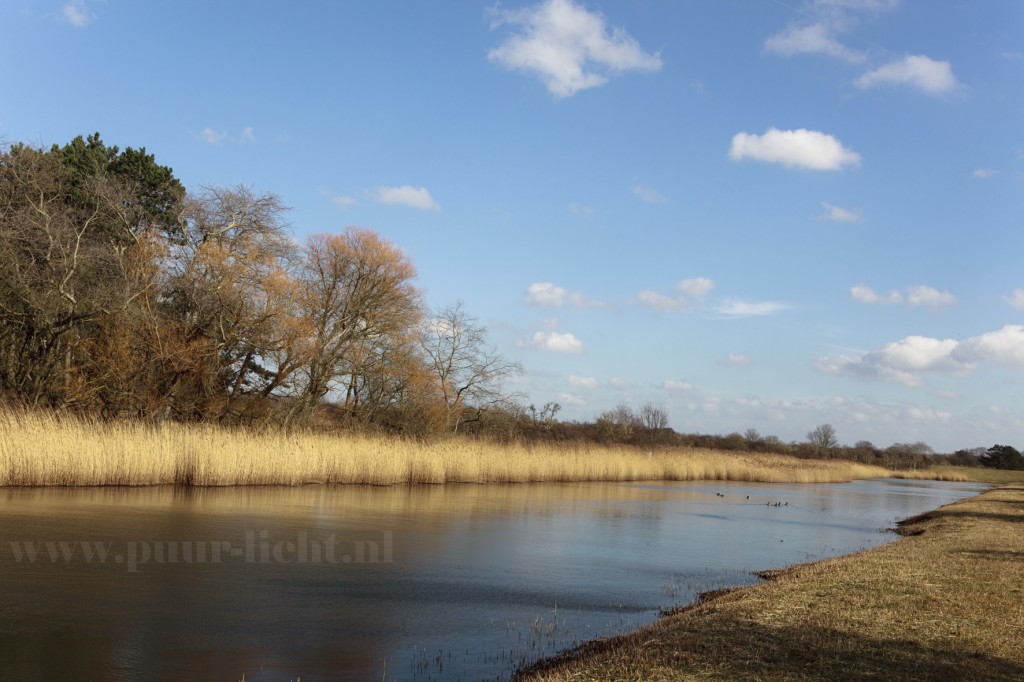 Het was niet echt heel bijzonder allemaal, dus dan maar eens iets anders fotograferen en op een andere manier spelen met licht.
It was not really special to photograph, so I decided to play with the light in a different way.
De lente leek ook nog niet echt gearriveerd in de Duinen. Het was nog voornamelijk kaal, met her en der wat beginnend groen.
Spring had not really arrived in the National Park yet, it was manely bare land with some green colors coming up.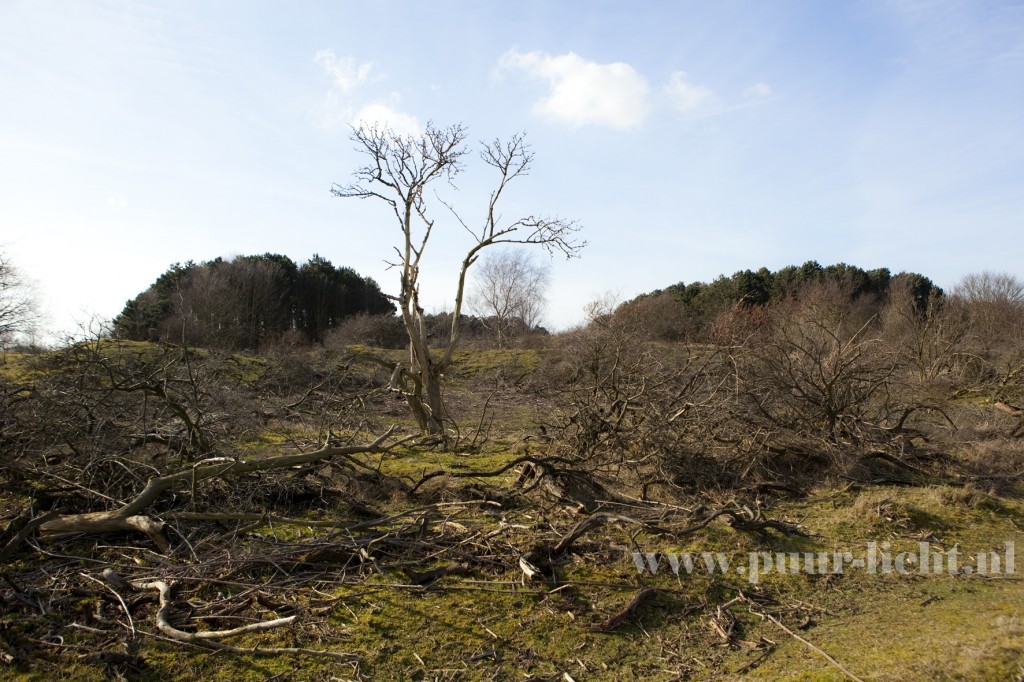 Na enige tijd moest ik toch echt gaan zitten, want ik had mijn been toch behoorlijk geforceerd. Dus ging ik aan de waterkant in de zon zitten, genietend van het licht en de vrijheid die ik had en het feit dat mijn spirituele kanalen verder geopend waren en het makkelijker was om met Moeder Aarde en de dieren te communiceren.
After some time I really had to sit down, because I had forced my leg too much. So I sat down in the sun, near the water and enjoyed the light and the freedom I felt and the fact that my spiritual channels had opened further, so it was easier to communicate with Mother Earth and the animals.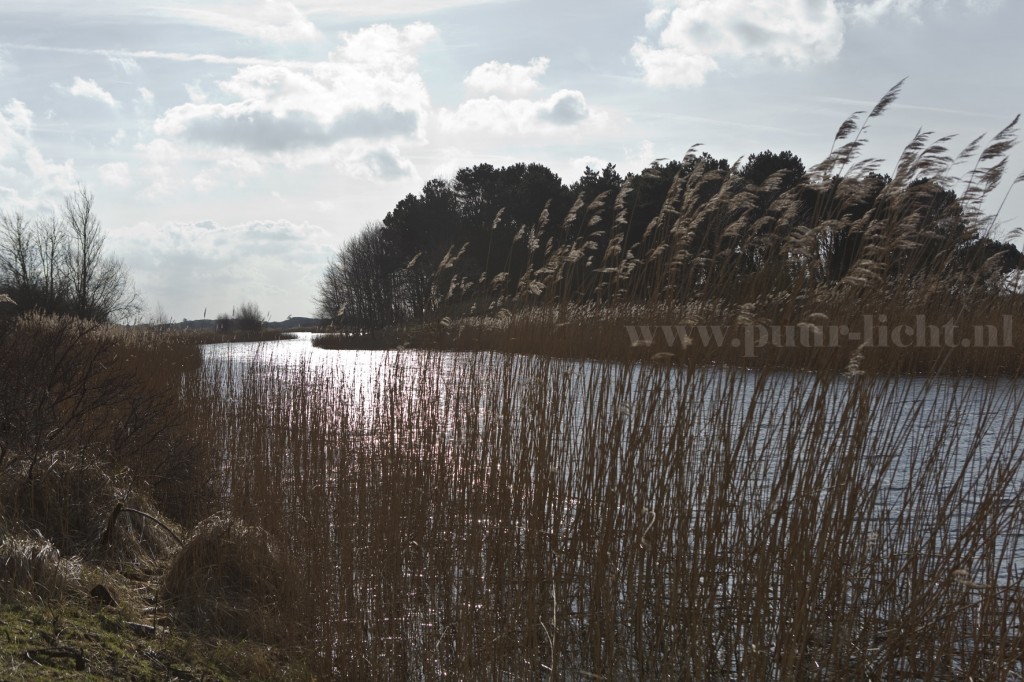 Na een tijdje vond ik dat het tijd was om naar huis te gaan, maar ik ontving de boodschap dat ik in de Duinen moest blijven en besloot een paadje in te gaan wat ik nog niet eerder had gelopen. Dit pad bracht me naar een prachtige plek.
After a while I decided it was time to go home, but I received the message that I needed to stay in the Park, so I walked a path I never walked before, which brought me to this beautiful place.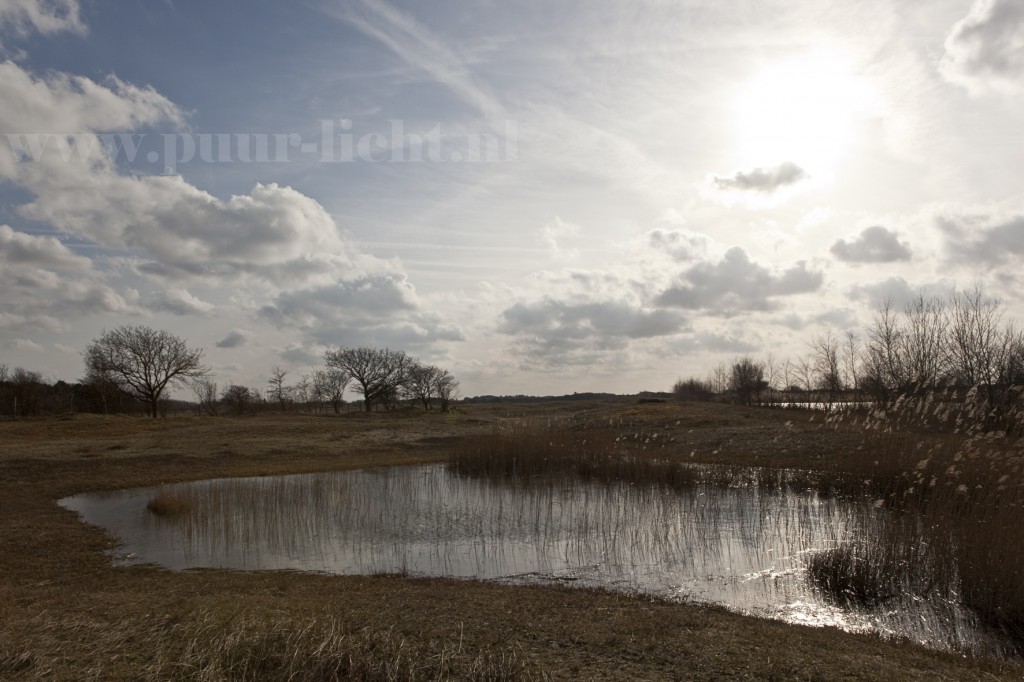 En daar stond hij dan, het eerste bloemetje dat ik zag!
And there it was, the first little flower I saw!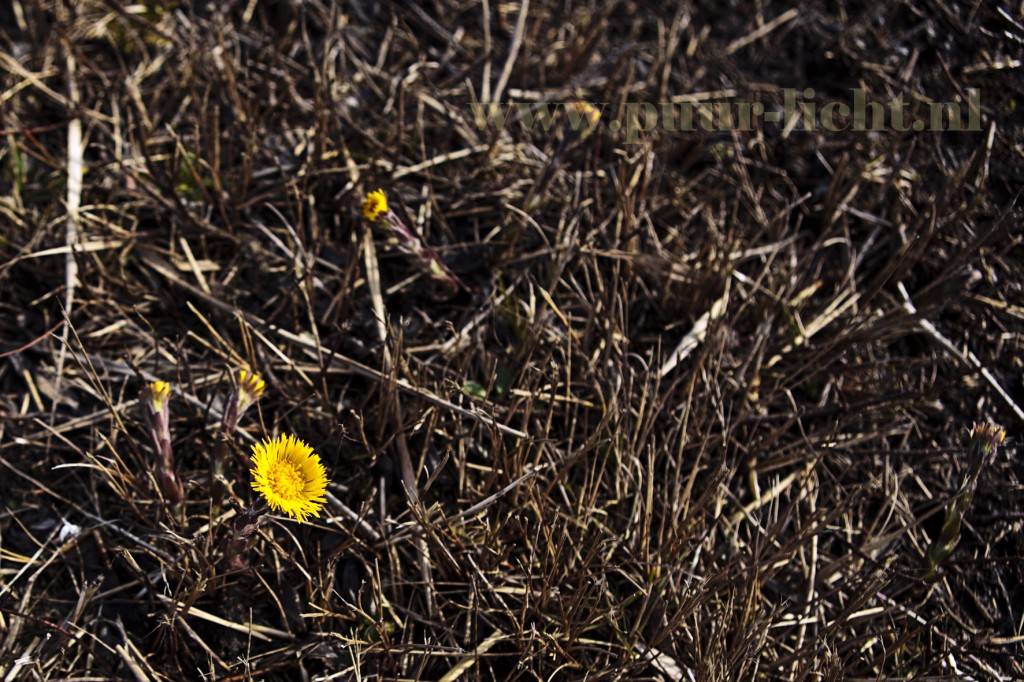 Ik was echter nog steeds niet helemaal blij met alles om me heen en vond weinig inspiratie om te blijven fotograferen. Bovendien werd het kouder, dus begon ik aan de terugweg. Na enige tijd nam ik bijna uit gewoonte de volgende foto, tot ik op mijn schermpje keek en volledig verrast werd door het resultaat.
Dat was niet wat ik had gefotografeerd dacht ik, maar de combinatie van het zonlicht, het tegenlicht, de pluimen en de instellingen van mijn camera, leverde toch wel iets bijzonders op, waardoor ik de inspiratie weer helemaal terug had!
I was still not totally inspired by all around me to stay in the National Park to photograph. Besides that, it started to get colder, so I decided to go back. After a while I took a photo out of a habit, and when I looked at my screen I was totally surprised to see the result. That was not what I photographed I thought. The combination of the sunlight, backlight, the stems of the grass and the camera settings, led to something special, which brought back my inspiration!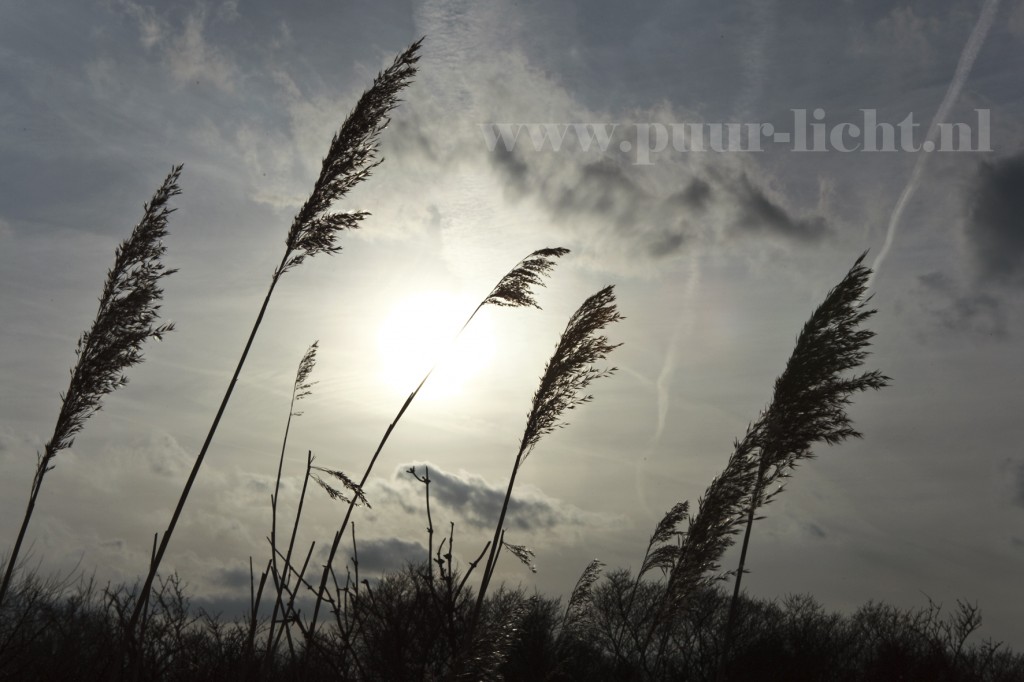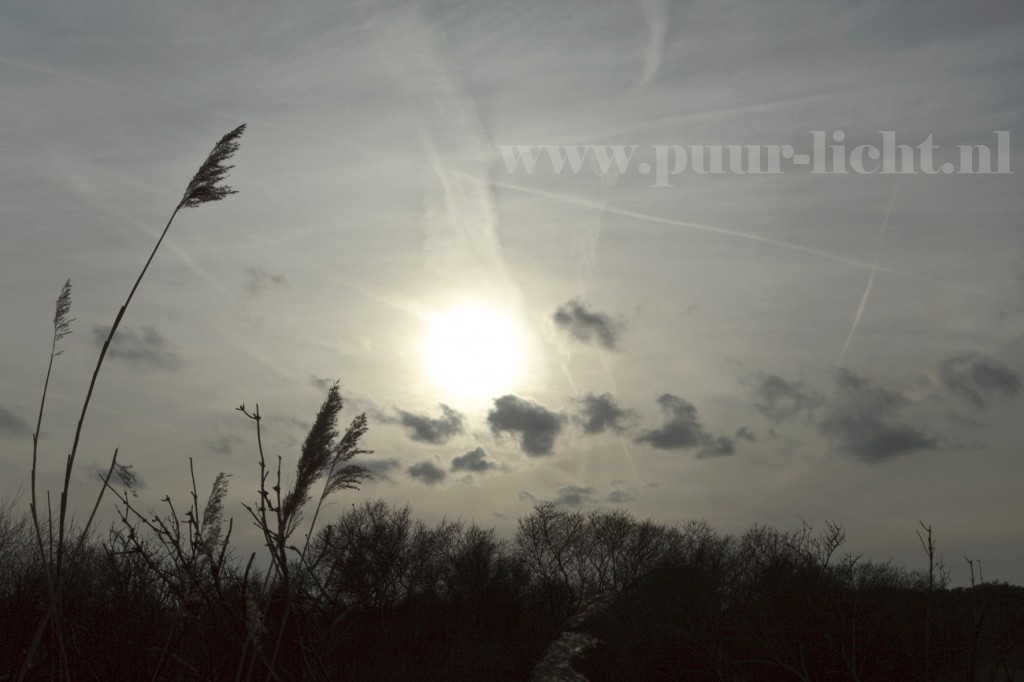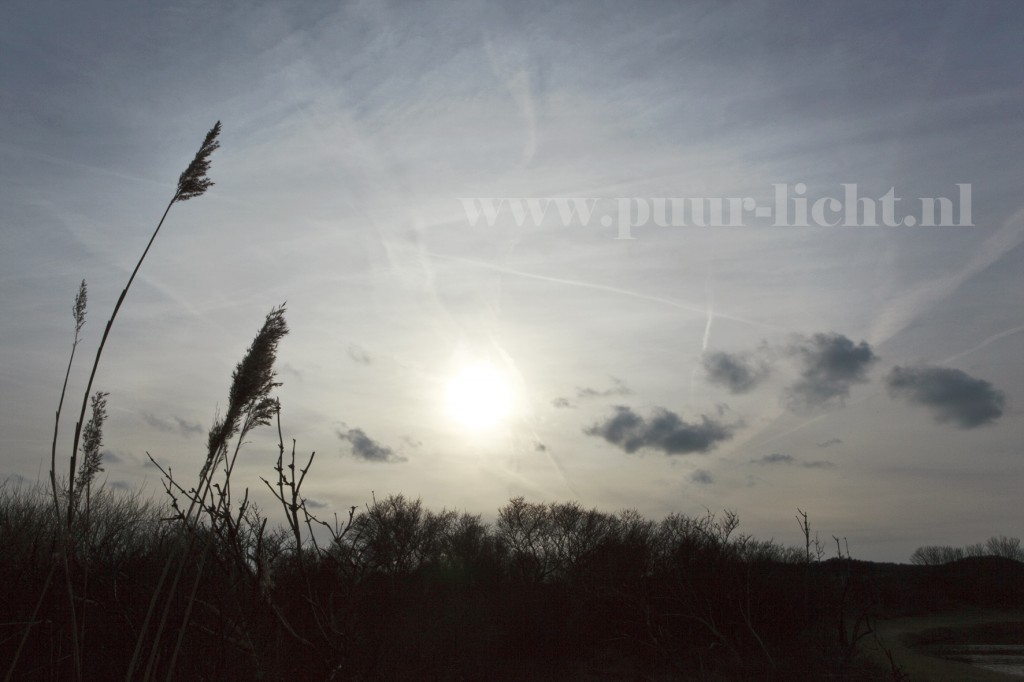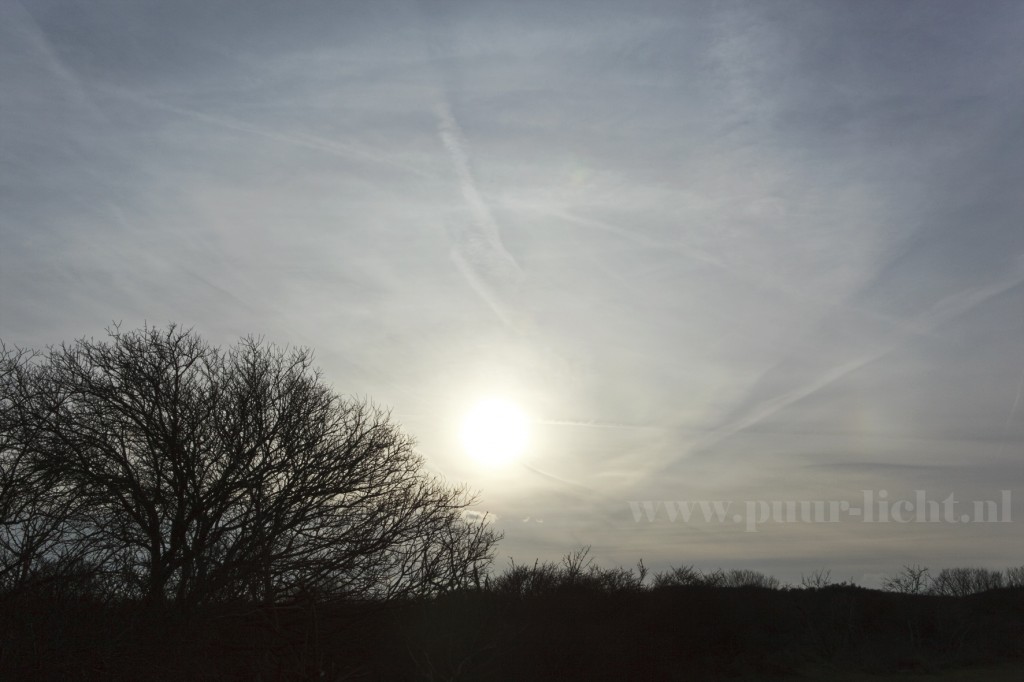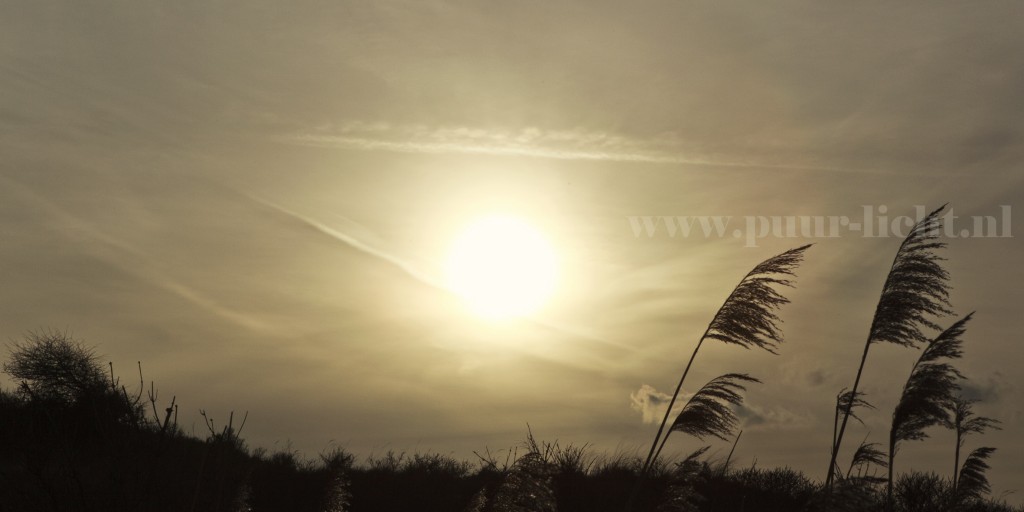 Tegen de tijd dat ik bijna thuis was, was de zon al onder. Deze laatste foto is genomen de volgende dag.
By the time I was almost home, the sun already set, so this last shot is taken the next day!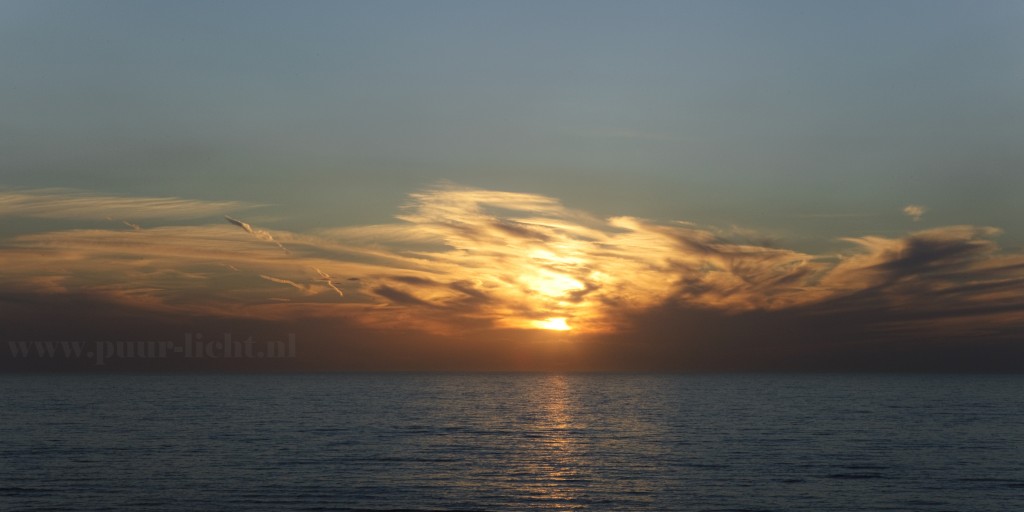 Al met al was het toch een heerlijk dag, zo genietend van het zwerven in de natuur. Volgende keer hopelijk meer geluk op baltsende watervogels.
After all it had been a beautiful day, exploring nature. Next time I am hopefully more lucky to watch the courtship display.