For those who don't know me and wonder who I am and why I do what I do, I happily write this short introduction.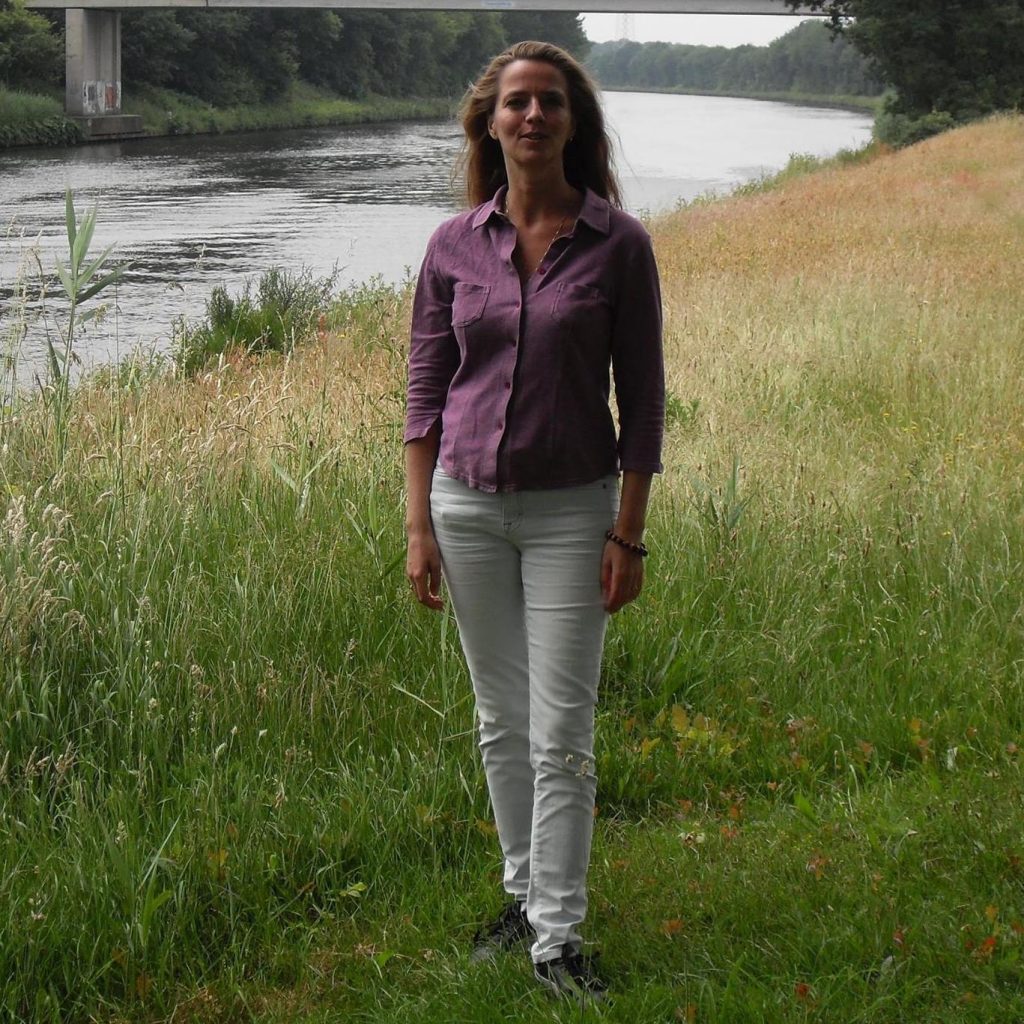 For as far back as I can remember I noticed that I experienced life than the people around me. But I adjusted myself to society,  unaware of the gift I had. All I knew was that I was very sensitive, and that I wanted to help people. What I didn't know was how to do that. I knew I didn't want to become a medical doctor, so after seeking some advice, I decided to study law. I decided I wanted to become a Juvenile Judge, so I could help children in need. But then, when I was 19 years old, I got very ill, and those plans were completely turned over. The medical doctors couldn't give me a proper diagnose.  They sent me home to rest and no matter what I tried, nothing helped to feel better. After 3 months with no improvement, I  wanted to do something, so I went back to the university to continue my studies. But it wasn't easy. I didn't feel good at all.  I lived on willpower. Intuitively I knew something was really wrong with my liver, but the doctors didn't believe me. That was the start of a battle which would continue for many, many years. According to the doctors it was all in my mind. I just had to live my life and enjoy it. I was a young woman and I had my whole life ahead of me.  Since staying at home wasn't a solution, for someone like me who had always been very active, I tried the best I could to live, to study,  to have a normal life. But it got more difficult along the way. After I obtained my law degree, I started my work at the court of justice. What seemed to be so easy for my colleagues, turned out to be a nightmare for me. To work all day with criminals and addicted persons was nearly impossible for me. I felt so tense and sick whenever I was near them, and their eyes haunted my sleep. I really thought something was wrong with me, because I didn't understood what was going on, and what the cause of these symptoms was. My illness progressed, my liver was in more trouble,  and it became more and more of a struggle to live a normal life with each passing day.  
In January 2004 I collapsed, and realized that it would be totally crazy to go on like this. What I thought a week of solid rest would resolve, turned out to be the beginning of a 5 year confinement to bed. The functions of many internal organs declined step by step. I became over-sensitive to light and sound, my photographic memory completely disappeared, and I could hardly memorize anything. Every movement I made, every step I took felt like I had been running a marathon.
I don't know anymore how many doctors and therapists I visited, but all the medical treatments I tried were without permanent results. I knew I was dying and one day, my doctor said, that if nothing changed, I would not live too much longer.
That was the moment that I realized the medical doctors couldn't help me and, that if I wanted to survive, I had to do something myself. I had to become my own doctor. So I started to search for information on the internet. I had no idea where to start, and then one day, when I was so weak I was unable to help myself up in the bathroom for more than two hours, a feeling of desperation and total despair overtook me. I looked up and asked if there was anybody out there who could see or hear me, to please help me.
That was the moment my spiritual channels were opened further. I saw my own soul coming back inside my body, and I heard a voice. I had no idea what was happening to me at that moment, no one in my family or neighborhood had these kind of abilities, so I was not familiar with it, and in the beginning I thought the medical doctors were right after all, that I had lost my mind completely and had started to see and hear things.
But what did I have to lose? If I didn't do anything I would die. If I followed the directions that the voice was giving me on how to heal myself, maybe I had a chance. So I decided to follow the guidance. That is how they guided me to eat the right food for me, to take the appropriate medicine, to visit the right doctors for me, who finally could help me, and who believed my story. That is how I met a doctor who was willing to do a specific test for my liver, and finally it was proven that my liver didn't detoxify properly, so all the toxins were stored in my body, my organs, my cells, my brain, my nervous system, with all the resultant symptoms. A long period of purification started, but it was slowly changing my situation. After all those years of being inside my house I was able to go outside once a week, I could make my own meals and I was able to move in a better way inside my house. I was on the right track.
In 2009 I bought myself a DSRL camera, because I needed to walk and train my muscles. However, I probably had to stop every few meters, and I didn't want people asking me if I was alright. So I thought that if I brought a camera with me, people wouldn't ask me why I stopped all the time, and in this way I could slowly train my body. But after only one day with my camera in nature, the situation was already the other way around. I didn't take my camera with me because I needed to do the physical training, it was the camera, and my wish to photograph which forced my legs to walk. Photography gave me so much energy and joy, that it became the best therapy for me.
Then my spiritual guides sent me to Dr. and Master Zhi Gang Sha.
In July 2010 I received an email, with a description of the event with Dr. and Master Sha in the Netherlands, which would be held in October 2010. But it was 2 hours away from my house and I couldn't travel so long at that time. Nevertheless, I received the message I had to go to the event, but because I had no idea how to get there, I initially ignored the message. Three months later, I received another email with a reminder that the event of Dr. and Master Sha would take place in a few days. Again I received the message that I had to go, so I had no choice. I had no idea who Dr. and Master Zhi Gang Sha was, or what this man could do for me, but I had learned to trust my guides completely, so I knew I really had to go to that event. So I asked my guides for the strength I needed to get there and went to the event.
While I was sitting in the audience, waiting for the event to start, my guides told me that my search for health after those 17 years was over and that I needed to become a student of Dr. and Master Sha. I was totally overwhelmed and surprised by this message.  Even before the evening had started,  I really became curious about what was going to happen.   But as soon as master Sha started to teach my mouth dropped open.
All the information and guidance I had received from my spiritual guides in those previous years, was included in the teachings of Master Sha, but he also gave me the missing links and the information I was still looking for.  Now I truly understood why it was important to become a student, and  I wanted to find out how to become a student.

During the break I was so lucky to meet one of the teachers, trained by Dr. and Master Sha. Because of my very serious situation, he recommended that I attend the Soul Healing Evening the next day, where Master Sha would offer healings to the people in the audience. I slightly panicked because of the idea that I had to go back again the next day, but I was immediately told by my guides that I should indeed go back, so I answered that I would come back the next day.
As if by a miracle, I indeed had enough strength to go back. That night in the audience I became very ill, but I received the information that that was the way for me to speak to Dr. and Master Sha and that I should be patient. So I continued to wait calmly to see what would happen. At the end of the evening, this indeed gave me the opportunity to have a personal conversation with Dr. and Master Sha. Everything I had discovered about my own health over the years was confirmed by him, but he gave me much more. He also explained to me why this had all happened, what he could do for me, and more importantly how I could heal myself and help others. I had finally reached my goal.

A very intense period of self-healing, study and development under his guidance began, but it was the best time of my life. At last I understood who I was, what gift I had, what I had to offer others and how to develop it further.

The gift I have was no longer a burden but a blessing and my most important asset. The soul healing techniques of doctor and master Sha were the solution for all my physical, emotional, mental and spiritual blockages and made me grow in all aspects of my life. Step by step I healed, regained control of my life and a whole new world opened up to me. The world of clairvoyance, clairsentience, clairaudience, clairsentience and healings. All my questions were answered.
I learned how to heal myself, how to develop myself and how to help others. I learned how to use my gifts and communicate better with the soul world. I was able to access the Akashic Records and receive very detailed information in response to my own questions or the questions of others. I learned how to pass on the light and healing from the soul world through my channels to others.

That was what I had dreamed of for so long. That which the medical world in the Netherlands could not give back to me, my health, Dr. and Master Sha and soul healing brought back to me. And more than that! At last I understood why I was in a different way in life and how I could help others!
My life has totally changed since that first evening in October 2010. The lives of my loved ones have changed. And I am able to help others as well in ways I never thought possible. That which I already wanted as a child, but of which I did not know how, has now been fulfilled in a very special way. The joy of passing on to others that which saved my life is unprecedented. What the doctors could not do, I could do myself through these simple techniques and by further opening my channels. My life obtained a richness that I did not even suspect existed.
The gift, the knowledge and the experience I have, I like to share with others who, for whatever reason, are not happy with the life they lead.
Soulfulness and Tao Healing not only works for diseases, but also for relationship problems, financial problems, intelligence and many other aspects of life. And it is so simple. Simple and effective!
You can heal yourself in this way and transform every aspect of your life and I can support you in this in a variety of ways.
I can teach you to regain more light and joy in your life through the application of simple techniques and I can support you through healings and readings, so that the result can be achieved faster and more focused.
Since 2010 I have received several certifications and my education continues to this day to increase my abilities and I am very intensively trained and guided in this process. So my knowledge and skills will always be up to date and evolving.
I did not receive this gift to use only for myself. I have this gift especially to help others, which I do with all my love for anyone who asks for my help and the help of my guides.
For those who prefer to (first) work on their own and want to read more, I share a lot of free information and exercises on my Blog: My Soul Healing Miracle Journey to the Purest Light: About Hope, Healing of my Chronic and Life-threatening Condition and Happiness.

with love and light,
Barbara