Experiences group sessions
January 19, 2021
On Tuesday, January 19, 2021, was the second group session of this year. Once again, it was an extraordinary experience. Many gave me feedback on what they had experienced. I am grateful for all the beautiful emails I was allowed to receive and read. However, the individual experiences were so personal this time that I cannot and will not share them in my newsletter or online. What I would like to share, however, is a part of the many messages I received from the soul world during the group session about the great importance of a quiet and peaceful heart in these times we are living in now:

💟️ "There is a need to focus the healing session on a quiet and peaceful heart. A quiet and peaceful heart is the beginning of the end of suffering, it is the place where healing takes place, it is the place where the connection with the soul is felt and restored, it is the place where people can feel their true purpose in this life. To focus on a calm and peaceful heart is what is most needed now in these times of turmoil and chaos. It is where revelations of the soul are brought to the mind and it is where the deepest pain can be healed and life restored. A quiet and peaceful heart is most needed by all participants. That is the focus for today. It will help each of them to move more calmly through this storm of chaos and turmoil and connect them deeply to their hearts in a very peaceful way so they can have resilience, confidence and faith in the times to come. With this healing, blockages have been removed for each of them to go into that stillness and inner peace in a more effective way, so that they can go deeper and deeper. They are all loved and blessed."
One of the participants wrote to me a few days after the group session:
☯ "I definitely noticed that the healing continued to have effect on me: I feel more inner peace."
Another participant wrote to me after the session (I share this with permission granted):
☮️ "Since yesterday afternoon I am fully back in the golden vibe. And that feels soooo incredibly nice!!! Free of fear, full of confidence, completely relaxed, full of love, acceptance, compassion, peace…The message you received and shared in the email is spot on, thank you for that! The group healings lift me out of that heavy field that I feel all around, so for me it would be a great idea to continue these group sessions! An individual session is more powerful, but a group session beautifully connects us and it is therefore creating extra energy in a different way. I would love to have a continuation in this form. An additional advantage is that this is also more affordable for me."
And that was exactly what I felt myself too. That a follow-up is needed for this theme: a calm and peaceful heart. I have been reading an increasing number of sad messages online since the lockdown started. Deep emotions of stress, fear, sadness, anger, uncertainty etc. are being expressed. It affects me deeply and I really want to do something to help those who are open to receive. This is why I have decided to continue the group sessions in February. In this way I can offer help to more people at the same time at lower costs. In this way more people will receive the light and love from the soul world and that is so desperately needed by so many in these times of the pandemic. To feel the heaviness that is currently in the collective field being lifted can make a huge difference for everyone in these times.

Another person wrote me an email after reading the messages I had received about the importance of a quiet and peaceful heart at this time (I also share this with permission):

💖 "You received messages which perfectly describe the process I am in at this time: obtaining a quiet heart. This peace and the stillness is present all the time, amidst the hectic pace of everything that is going on in the world. In a very beautiful and intense way you bring exactly what is needed now: The ability to go into that place of peace and quietness deep within. That is necessary for reaching that level of unlimited Universal Love . This is crucial for everyone's life."
As a result of all the things mentioned above, I will continue these group sessions in February with this specific theme: A Quiet and Peaceful Heart. ☮️💟☯️
More information will be posted soon.

I look forward to Tuesday evening, January 26 when the last group session will be given for January with the theme: develop your talents and potential. But as you have been able to read in the message shared before, that is only a guideline. The soul world will give what is most needed for all participants.
Would you like to participate too after reading these experiences?
You can!
More information about the session and the registration can be found here: https://www.puur-licht.nl/…/spiritual-healing-group…/
You are most welcome to join!
In love and light,
Barbara
(https://www.puur-licht.nl/en/pure-light/)

🌟💛🍀💛🌟💛🍀💛🌟💛🍀💛🌟💛🍀💛🌟💛🍀💛🌟

January 12, 2021
On Tuesday January 12, 2021 was the first spiritual healing – group session for Talent. There were quite a few participants and I had never given a healing session to so many at once, so I was very curious myself about what it would be like and what might happen. Some participants were already familiar with soul healing sessions. Others were new. Introducing people to this form of healing that I am allowed to pass on always makes me very happy.
It was a wonderful experience and I love to share with you what I was able to see and pass on. I have also received very nice feedback from many participants.
Some of the messages I received after the session from participants:
"I had the feeling that a lot of light entered my heart chakra. There was sadness coming up for a while. Towards the end I felt like there was a fight between the light and dark and then I got the image of the sun slowly rising."
"When I laid down at the start of the session, I felt a lot of sadness…then it calmed down… I.felt a lot of subtle energy and it started flowing through my body….I felt the energy, without specific images…I felt good and relaxed."
"Thank you!!! It was amazing and the energy I have been entering into for several days has been getting stronger and stronger, so powerful!!! Golden light blasts from my heart making ripples through the universe"
"I felt a lot of heat around my heart after the blessing had started and later during the session again.. I expected to see images but that did not happen which is not a bad thing at all. I did get instructions though."
"I slept during the session but dreamed that a lot of light came in. You were there too."
"For me it was a very fine light energy, which completely calmed me down. There were many light beings around you. I also saw Guan Yin present. A very pleasant session. What was so special for me as a person with ADHD was that I could sit on my meditation cushion for some time after the session had ended in silence and without thoughts."
"What an experience…. Just before 8pm I already felt the energy flowing very strongly, it continued for a while and then flowed away. I started to sigh and up to 2 times I sank deeper into the meditation. I am very curious about the effects of this session in the coming days. This experience was already very special. Thanks!"
"The message I received through my spiritual channels was that I will get deeper insights about what spirituality means for me and for others, and deeper insights how to deal with it in daily life. I will also start to give guidance to people with these insights. For now this was the beginning. Over time images will be added to these insights."
*****
I am very grateful for so many different positive responses.
Every session is unique, for the participants receiving the blessing and for myself as well. And a group session is always a completely different experience than an individual session.
I never know in advance what may happen during a session. Many of you who are familiar with me and my service, know that I am only a channel for the soul world. It is them who give all the light and blessings and I am a vehicle/channel. I receive and pass on their messages and their powerful healings through my soul, heart and body. They decide what may happen for each of the participants. I am only the connecting link between you and them.
I also would like to share with you how I personally experienced this session.
"At 8 p.m. I sat down quietly and connected with the soul world. I immediately felt how the field was building up. A lot of energy went through me right away, but around 8:10 p.m. I heard that the actual group blessing would begin.
At that moment I saw an enormous channel being opened above me. All the participants were connected by a line in a circle around me. It looked a bit like a wheel with an axle and spokes to give you a better idea.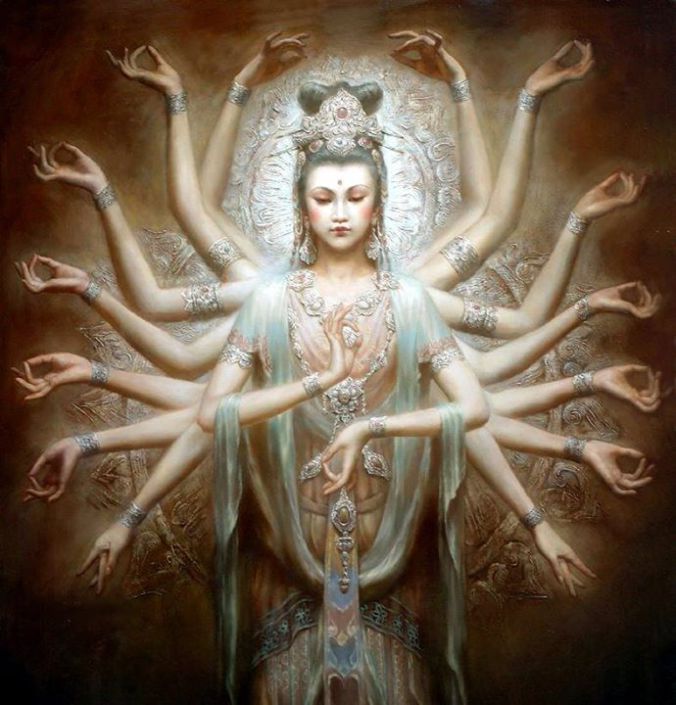 I see the presence of Guan Yin and see and feel the "1000 hands of Guan Yin" around me. The hands held all the participants lovingly connected in a circle around me. I see the Heart chakras of all participants light up.
Then the blessing for everyone's talent and potential starts. That was the theme of that evening.
Words that go through me are:
Feel your soul, feel your heart. Feel your talents….know what to do. Receive inspiration.
The image I receive is that everyone receives the inspiration through the crown chakra. And at the same time light still enters through the heart chakra. In the heart, the light and the inspiration come together and they connect. Thus soul, heart, mind, come together in a heart connection.
Then the blessing continues by bringing silence to the heart to allow each participant to feel more clearly his or her truth.
Much virtue comes from the soul world to each of the participants to enhance the talents.
Virtue looks like flowers with the third eye. The more virtue someone has, the more likely they are to succeed in life.
I see many different flowers coming down.
For each participant, it looked slightly different, different shape of flowers, different purpose, bringing more success to each of them exactly in the area where it is needed. Some received it for certain thought patterns, or for intelligence, others for their heart chakra or their physical health.
I saw a powerful light being standing behind some of the participants, giving them information. For others, there was a light being giving them an additional blessing to become physically stronger or to gain internal peace. Or a blessing to be able to go into silence in a better way and thus receive the inspiration in this way.
The group session was concluded with a blessing for a successful new start. I was shown an image of the circle in which everyone was standing with the channel that goes through me as the central axis and the circle was glowing with ever brighter light. The channel became wider and wider and everyone came to stand in the channel of light.
Then a message came through:
My most beloved daughter, I thank you from the bottom of my heart for your heart of service,
Each of the participants is blessed individually, particularly for what they need to move further on their soul journey in more alignment with their soul and soul's purpose.
Each of them received a tailor made blessing to remove some of the blockages in their heart chakra, preventing them to fully live their soul potential.
Each of them received inspiration and virtue to manifest their potential in daily life.
Each of the participants received a blessing specifically for the area which most needed support, to assist them in living their potential in a better way. For some of them this meant that they needed additional blessings to remove mind blockages preventing them to see clearly and understand fully what it is their souls want them to do. For some of them this meant that their physical bodies needed more strength and energy to truly be able to do something with their talents. For one of them it was needed to truly boost confidence because this particular soul knows what to do and has all the abilities to do something with it but lacks the true confidence to step up and show himself.
It was the greatest pleasure to offer this support to all of them. It was the greatest pleasure to support you and to truly assist you in living your true potential as well. You are all loved and blessed
Now continue this blessing for 5 more minutes in silence.
I see rainbow-colored light in the circle like a big rainbow ball around all of us.
At 8:40 pm the blessing was completed.
I am deeply moved that I was allowed to pass this on to each and every person who participated in the group session.
And am very grateful for all the shared experiences I received afterwards.
I am looking forward to Tuesday evening, January 19, when the second group session will be given for this specific subject.
Would you like to join us after reading these experiences? You can!

More information about the session and the registration can be found here: https://www.puur-licht.nl/…/spiritual-healing-group…/
In love and light,
Barbara

(https://www.puur-licht.nl/en/pure-light/)